One of the most rewarding art forms for musicians is playing in marching band. Often, the passion for the marching arts is discovered while participating in a high school or college band program. Some students may consider the possibility of making marching band a career.
It is difficult to make a full-time career in marching band. Band directing is one of the few reliable careers that involves the marching arts. Playing in a military band is also a well-paying option, but these corps are extremely selective. There are a few non-military professional marching bands. 
If you are very passionate about marching band, you may be able to make it a part of an overall music career by balancing it with other activities in the off-season.
There are also full-time marching band related jobs out there for those who have the skills and expertise. 
Is it possible to make a career out of marching band?
To consider making a career in marching band, you should be or become one of the most superior musicians and marchers out there. It is highly competitive, and only the best can eventually make decent money.
It is relatively easier to become a teacher or administrator involved in the marching arts, though there will still be challenges. This can be in school or drum corp. settings. 
Professional drum corps (see further down) require staff to run their season. Depending on the position, many work a second job to afford to be employed with a drum corps all year.
Working with a winter guard is a great option for off-season work. However, both marching band and winter guard require long hours, and the pay is usually not high.
For those that become the best, there are selective positions and ensembles that support a career in the marching arts. While it is possible to make it a career, it's generally challenging. 
Marching band related jobs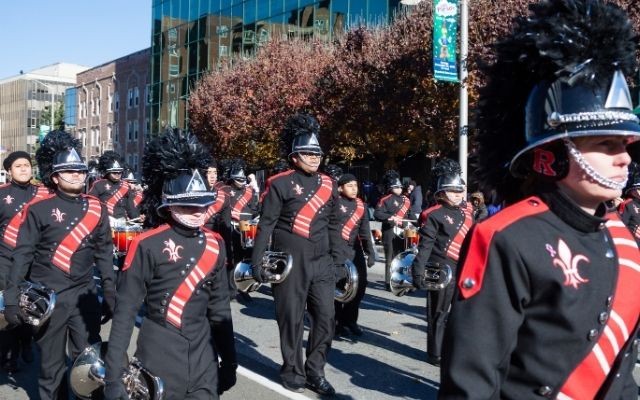 Most positions in marching band work for high school and college programs, since these groups actively play at events and competitions. Band directors and assistant band directors are the two main jobs for these programs. 
Color Guard instructors and choreographers are often employed for the season to work with the visual aspects of the show. They work with the dancers, props, and flag corps. members of the band. 
If you are accomplished at composing or arranging, you can be a staff composer/arranger for a band and write and/or arrange the music for their shows. High school and college programs frequently hire professionals in this area.
Creating the drill for the marching aspect is also an option. Accomplished drill writers can make reasonably good money writing drill for competitive bands for high schools, colleges, and drum corps. 
Marching Band Director position
A full-time marching band directing job will require at least a bachelor's degree, and in some cases a master's or doctorate, in music education or performance.
Rigorous music courses, various ensembles, field experience, and private lessons help gain the experience necessary to succeed in the field.
Positions for marching band directors are often at high school or colleges. It can be a full-time or supplemental position depending on the program. 
To be a good band director, it is essential that you become an exceptional musician and an excellent teacher. You must be able to convey the content in an engaging manner that will inspire students to become great musicians and marchers themselves.
A full-time director will often put in 50-60 hours per week, especially during marching season.
The salary varies widely depending on what area you teach in, but expect to start out around $30-40k with employer subsidized benefits if employed full-time. 
To prepare for this career path, participate in as many musical activities as possible, including marching band in school, and take private lessons on your instrument from a reputable teacher.
It may also be helpful to serve in leadership roles in the marching band groups you play in, such as the drum major, squad leader, or section leader.
Do marching bands get paid?
The musicians in the bands rarely get paid and are often in the group for the experience. Drum corps. musicians do not get paid, and even pay tuition to be a part of the group.
In high school band college, marching band participation is an extracurricular activity and the players are not compensated. However, some colleges do offer incentives such as college scholarships for participants. 
Military band members are compensated at around $60k, with benefits for you and your family while you are in the group. It is one of the few careers for marching bands in which you can make money.
Although they are rare, there are a few paid professional marching bands in the world that pay either salaries or pay per performance. How much they make depends on the funding for the group. 
Marching arts career opportunities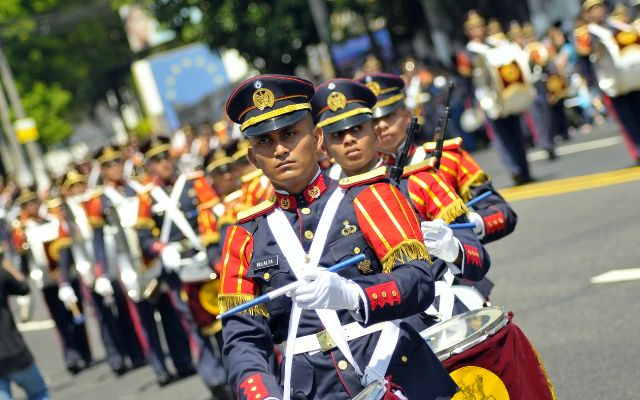 While options are limited, there are professional marching bands that offer full-time career opportunities outside of being a band director.
Be mindful that some of these groups only employ certain instruments.
Career in a professional marching band
Disney World has a park band that is a paid professional ensemble. The Main Street Philharmonic is a 12-piece band that performs around the park five days a week and are full-time employees with benefits. 
Disney also has The Disneyland Band at their resort that transitioned from being a sit-down band to a marching band in the past few years.
It is an 18-piece marching band with an overall roster of 60 people divided into groups so that the band performs 7 days a week. 
In Hawaii, The Royal Hawaiian Band entertains the locals and the tourists with more than 350 performances per year, including over 20 parades. The band members and staff are full-time civil servants employed by the city and county of Honolulu. 
The Patriot Brass Ensemble from New York pays professional musicians to play free concerts for veterans. Many musicians are not full-time, but every gig is paid.
Blast! is an additional professional program for musicians looking for a career in the marching arts. Blast! combines marching band and theater and have actively toured for nearly 20 years. 
While the above are among the most well-known groups, there may be additional niche groups out there that do offer career opportunities. 
Career in a military band
The U.S Department of Defense employs the largest quantity of professional musicians in the world. Musicians are enlisted in the military and serve for active duty in one of the bands. 
Military band positions are auditioned, and the player must go through basic training just like the non-musician military service members. Various instruments are included in these ensembles.
Each of the United States' five service branches has a premier band.
"The President's Own" Marine Band is one of the top ensembles in the U.S. It is the only branch that does not require basic training. Its mission is to perform for the President and the Commandment of the Marine Corps. 
The other premier bands include "Pershing's Own" Army Band, the Navy Band, the Air Force Band, and the U.S. Coast Guard Band.
Aside from these premier bands, there are dozens of other bands serving each military branch. These bands perform public and private concerts throughout the year around the world for ceremonies, entertainment, and outreach.
Being in a military band includes a salary, benefits, free travel, loan repayment (varies by branch). It is unlikely you will see combat.  
Drum Corps
Drum Corps. International, or DCI, is a governing body for junior drum and bugle corps. Performing in a DCI drum corps is not a career but is a great opportunity to gain experience for a future marching band related career. 
While being a performing member of a DCI drum corps is not paid, there are full-time paid positions supporting the organization. 
In Switzerland, there is the Top Secret Drum Corps. This group is composed of only drummers and colorguard, and membership is by invitation only.
Alternative marching band related careers
There are several specialty positions involved in marching bands that require specific skills sets not necessarily related to music.
Major drum corps., military groups, and some professional ensembles employ specialized roles such as technicians, attorneys, medical staff, physical trainers, programmers, photographers, designers, social media managers, and engineers. 
Many of these are tough to make into dedicated full-time jobs, but can be an enjoyable side gig for those with the proper qualifications.