When looking at the history of clarinet makers, four brands stand out: Buffet, Leblanc, Selmer and Yamaha. All four have a long track record of producing popular clarinets for players at all levels. How do Leblanc clarinets fare?
Known for a rich, beautiful tone, comfortable keywork and impeccable intonation, Leblanc makes excellent clarinets. They have made high quality clarinets for decades and are constantly striving to improve their instruments through a broad range of clarinet models.
Leblanc has its roots as Ets Noblet in France, an instrument maker for the royal court of Louis XV. Noblet sold his business to Georges Leblanc in 1904.
Vito Pascucci started Leblanc USA in 1946, established Leblanc in the field of music education, and ended up buying out the Leblanc business in 1989. The company was sold to Conn-Selmer in 2004.
Leblanc clarinets strengths & weaknesses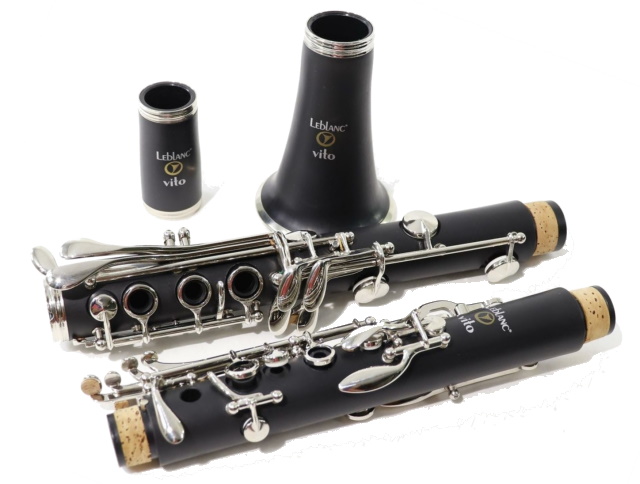 Leblanc has been known as one of the finest clarinet makers since it began in 1750 in France. It eventually became a highly respected US company based in Wisconsin, and was eventually purchased by Conn-Selmer in 2004.
Strengths
The Leblanc clarinets are highly regarded for their consistency. The company has always used scientific principles for the design and building of their clarinets.
They provide instruments with excellent intonation. A challenge for clarinet makers is to produce an instrument which plays in tune with itself. This means that the low E and the altissimo E both respond easily and in tune.
Leblanc clarinets allow the player to make music without having to worry about adjusting the intonation of each individual note.
Key design is an important element to building a quality clarinet. Leblanc considers what works best for the hands when they are in a natural position.
You don't have to stretch or push extra hard to make the keys work. This makes playing more comfortable and helps with endurance.
Leblanc clarinets are known for their full, rich tone. Musicians love the dark, round quality to the sound and the way it is able to project. Even the student models produce the distinctive Leblanc sound.
Weaknesses
Some players feel the main weakness with Leblanc clarinets is that they lack the characteristic tone produced by the Buffet clarinets.
This is a matter of personal preference though.
Unfortunately, Leblanc no longer makes professional clarinet models. In the recent past, they offered the Sonata, the Concerto II and the Opus II, which were fine instruments. They now focus exclusively on student and intermediate instruments.
Popular modern Leblanc clarinets
Named for Vito Pascucci, who founded Leblanc USA, the student line of clarinets includes LCL301 and V7214.
Model
Level
Cost
Features
LCL301NPC (Vito)
Student
$1,245
Reso-tone ABS body
Nickel plated keywork
Neck strap ring
Valentino synthetic pads
Vito mouthpiece
Plastic case 
V7214PC (Vito)
Student
$1,244
Same as above except:
Nickel silver keywork
Cylindrical bore
Medium large bore size
Leather pads
Plastic mouthpiece
V7214WC (Vito)
Student
$1,319
Same as above except:
Wood shell case
The Serenade model, or L225, is the intermediate or step-up clarinet in the line. It provides a great introduction to wooden clarinets.
Model
Level
Cost
Features
L225N (Serenade)
Intermediate
$1,589
Grenadilla wood
Nickel plated keywork
Mouthpiece – Leblanc K10 
Ligature and cap – nickel
Case – backpack straps, shoulder strap and carrying handle
L225S (Serenade)
Intermediate
$1,759
Same as above except:
Silver plate keywork
Mouthpiece – Leblanc K10
L225SE (Serenade)
Intermediate
$1,829
Same as above except:
Silver plate keywork
Eb trill key
Vito Clarinets
Vito clarinets are known for their easy response, meaning the player doesn't have to work overly hard to make a good sound. They are also affordable.
These instruments are lightweight yet durable, well-suited for young beginners. Wooden clarinets are often too heavy for young players. They also need an instrument that is tough enough to withstand life in a band room.
The clarinets feature P.R.A.G., or Positive Radial Alignment Guide, is a system patented by Leblanc to help beginner clarinet students properly assemble the upper and lower joints of their instruments.
LCL301NPC

This plastic clarinet has nickel-plated keys and Valentino synthetic pads. It comes with a neck strap ring, which is very useful for young beginners.
The LCL301NPC also has a Vito plastic mouthpiece and a hard plastic case. It is known for being very durable.
V7214PC & V7214WC

This model of Vito clarinet has a medium large bore, which makes the instrument easy to respond but with a more controlled sound.
It has silver-plated keys and leather pads, a step up from the LCL301. V7214PC comes with a plastic case and V7214WC comes with a wooden case.
Serenade

L225N, L225S and L225SE. Made in the USA, the Serenade clarinets have unstained wood, giving each instrument a unique look.
With the Serenade, Leblanc has made a clarinet that has a rich, full sound and excellent keywork.
There is a low E reinforcement bar to add strength to the lower keys.
The L225N has nickel plated keys, a standard for clarinet plating. The L225S has silver plated keys, which is more durable. Most players find silver plating feel better to play.
The L225SE also comes with silver plated keys, as well as a left-hand Eb key. Traditionally, the clarinet has four right-hand pinky keys, but only three corresponding left-hand pinky keys. The added key makes it easier to play some technical passages.
Famous older Leblanc Clarinets
Leblanc has made numerous models of clarinets through the years, and it's possible to find a high-quality used Leblanc for sale on ebay.com or reverb.com.
Leblanc is known for consistency in manufacturing, so if you find one that's in good working condition, it's worth looking at.
Bliss LB210

Designed by Morrie Backun with support from Julian Bliss, a world-famous clarinetist, the Leblanc Bliss 210 is an intermediate clarinet with a brilliant tone.
It has an easy response and high quality keywork. Many came with black nickel-plated keys, giving the instrument a distinctive look.
If you find a used one of these that is in good shape, it's a great clarinet.
Sonata

The Leblanc Sonata was an entry-level professional clarinet that was very highly regarded for its quality at a low price.
The instrument has an even response and excellent intonation. This is a good instrument for someone just starting on a professional model.
Concerto II

With a beautiful rich tone and a new keywork design, the Concerto II was the instrument of choice for many professionals.
The keys are extremely comfortable, allowing for flawless technique and endurance.
This clarinet is known for its flexibility and wide dynamic range. It was developed with the help of famous jazz clarinetist Eddie Daniels.
Opus II

Leblanc worked with Larry Combs, world-renowned clarinetist who played with the Chicago Symphony, to develop the Opus II.
This was Leblanc's top-of-the-line professional clarinet. The instrument has a full, dark sound and feels easy to play.
The silver-plated keywork design is ergonomic, relieving muscle tension. It features an adjustable bridge mechanism, a left-hand Ab/Eb key and adjustable right hand E/B and F#/C# keys.
Other highly-rated Leblanc clarinets
Symphony VII : made in the 1990's, this clarinet is often compared to the more recent Opus II model
Leblanc L7 : made through the 1970's and 1980's, the L7 featured a conical bore. Many players feel the L7 competes with the best professional instruments of today
LL: Leblanc's professional model from the 1960s and continued through the 2000s. It is considered one of Leblanc's best.
Picking a Leblanc clarinet
Leblanc provides an excellent line of new and used clarinets at all levels of playing ability. The new student and intermediate model clarinets provide the student with a quality instrument which supports a solid fundamental playing style.
With quality manufacturing, Leblanc has made instruments that play in tune and have a beautiful tone. These qualities make playing fun, which often means the student will continue playing longer.
While Leblanc doesn't currently offer a professional model clarinet, it's possible to find a very good used instrument among the older models including the L7, the LL and the Symphonie VII.
More recent models which are very highly regarded include the Sonata, Concerto II and the Opus II.