ESP is owned by Hisatake Shibuya who has one of the world's largest collection of guitars. Incidentally, he also owns Musician's Institute and Schecter. ESP and ESP LTD offer a massive catalog with basses that range from cheap to expensive, traditional to cutting-edge, no-frills to spec'd out, as well some killer multi-scale bass guitars. 
Overall, ESP bass guitars are high on value, well-constructed, and very studio/stage friendly instruments. The LTD versions invariably seem to offer more value than Ibanez and Schecter basses in a head-to-head comparison.
The ESP customer service is well regarded in the guitar and bass community. They are known to stand behind their products and are quite reasonable in replacing instruments that are under warranty. 
Underrated basses with solid value
ESP and ESP LTD offer some extremely versatile instruments with a distinct tonality, yet somehow they're the most overlooked, underrated basses. There are two reasons, I believe, why they get so easily disregarded – a) they have a 'metal player axe' image, and b) they are considered to be 'knock-off' instruments.
While it is true that they are mostly re-spun designs of other brands or models, ESP basses are very well constructed and sold at a very competitive price. To some extent, almost every bass brand has 'knocked-off' a J-Bass or P-Bass at some point. In fact, the ESP Vintage Four is one of the best Precision-styled basses around, although it rarely gets the attention it deserves.
Many people assume that ESP/LTD is 'metal-only' – seeing them in the hands of musicians from bands like Anthrax, Metallica and Slayer have exacerbated that reputation. In reality though, ESP basses are equally great for blues, rock, funk, and even country or R&B. .
LTD may not have the brand recognition of Fender or Lakland, but their craftsmanship is among the best out there, and the models that have EMG pups have a fairly distinctive sound. An LTD priced at $300 can square up to an Ibanez that costs twice as much, and the high-end ESP can square up to other big-name brands like Gibson or Ibanez's Prestige Series.
The only drawback is that the lack of brand recognition means you won't get a resale value when you try to sell them. Nevertheless, it balances out because many of the ESP basses have a good value-to-cost ratio even when you buy them new.
ESP bass construction & playability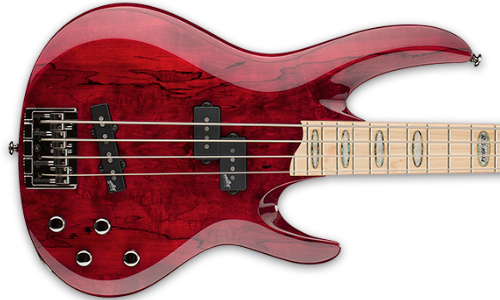 ESP, being a premium offering, takes pride in meticulous attention to detail and faultless construction. Outside of personal preference, it is hard to begrudge the playability on these bass guitars. The bridge is wide and spacious, the finish is spot on, and the fretwork is as good as it can get.
They also deserve praise for their wood choices and natural finish that result in some stunning looking instruments. Some players argue that their Fender knock-offs are better than a real Fender, especially when you factor in the price tag.
The LTD is a bit on the heavier side but they are great basses for the money. They do not have that thick, bulky, or uncomfortable neck even on the 5vers. The neck width starts out at 3/4″ thickness (1st fret), maintains that until the 15th fret, and like most neck-thru-body basses, it flares out to its full thickness around the 20th fret.
The neck profile, width, and playability on the F and B series are right on the money. The neck-to-heel transition is very smooth. Unlike Ibanez, the curvature is uniform along its length, i.e. It never feels flat on the back at any point.
ESP bass pickups & tone
On one hand, you have Tom Araya (Slayer), Frank Bello (Anthrax), and John Campbell (Lamb of God) but on the other side, you have the jazz-legend Bunny Brunel (Chick Corea, Herbie Hancock, etc.) and Rocco Prestia (Tower of Power). If that doesn't highlight the versatile tone of ESP basses, what will?
That being said, ESP instruments have a 'personality' and it is nothing like the tone you'd expect from any Leo Fender design – P, J or, MM style bass. 
When it comes to pickups, you will find a wide range based on the product line and model. They have an in-house brand pickup and preamps but active EMG pups are probably the most common.
In the lower models, the usual choice of stock Seymour Duncans do a good job but there are loads of aftermarket choices to upgrade when you feel the need to.
On some models, like the LTD EC-256, the G&B pickups can be muddy, but you can upgrade them to modern Humbuckers and remedy this issue. Many bassists prefer the LTDs with the EMGs, much better than the stock pups.
The basses also use passive and single coils, and some models also have Nordstrand (LTD B-1004) and Aguilar electronics. The entry-level models are generally considered miles ahead of the squire guitars in terms of value.
Are LTD basses good?
The ESP LTD models are surprisingly great instruments, more so when you look at the "under $500" price tags. While most of the models with EMG-HZ pups are certainly heavyweights in their category, even the cheapest B205 looks and sounds better than most of the competition.
They are extremely silent with a flat EQ and you can get a great slap tone out most of them. There are far too many sub-categories to summarize the build or electronics – so we will elaborate on the better-faring product lines and explore the product highlights.
LTD B-Series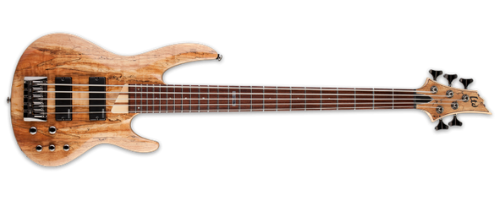 Most of the B-series bass guitars are versatile workhorses that can dabble in everything from rock to jazz to punk to Broadway music.
The B series has the most options but many of the models have a "D" neck profile.
The Deluxe series is made in Korea and they are extremely high-value bass guitars. For instance, the Korean-made LTD B254 ships with EMG HZ's, top-shelf hardware, and a very playable neck – all for roughly $300. 
The tone woods, electronics and necks are great though the weight may be an issue for people with small stature. The weight doesn't affect the balance, however, and there is little to no neck dive on any of the instruments. 
These basses feel durable and rock-solid and can easily live through a stage-accident with just a nick/ding to tell the tale. The B-50 seems to be the most balanced in weight and tone.
The B-254 (EMG pickups) and 255 (Seymour Duncan pickups) are neck-thru, string-thru models with a fantastic and ultra-playable neck. 
The B-1005 hangs out in the same price range as Ibanez, Fender, Lakland, and Spector but offers a lot more bang-for-buck when it comes to hardware and components. 
Among the P-J configuration bass guitars, the neck pickups (J pickup) sound great though the neck pups (split) tend to sound a bit tinny and thin.
Most of the 5-string models have great sounding EMGs, good balance, and top notch builds. The action can be set to really low without any buzzing and the low-B string does a great job in most situations.
The LTD B-1005MS is a good 5-string example in this series and has Nordstrand pickups, which are incredible sound pups.
The 6-string versions, like the LTD B-206, are on the heavy side but they have a distinct tonality and rank among the cheapest options on the market. The B-206 is one of the best-selling 6-strings and for good reason. It is a killer piece for a killer price.
Overall, this series offers some great bass guitars that just need a simple upgrade or two to catch up to competitors priced twice as much.
Replace the nut and/or pickups on a used B-series bass and you will save a lot of cash without skimping on tone and quality.
LTD D-Series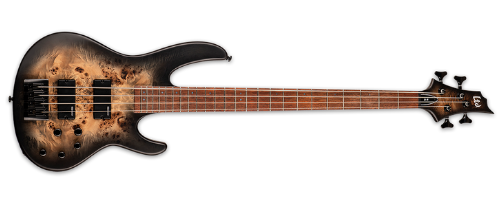 The D-series is a neck-thru construction with active pups (SB) on a mahogany body with a 7-piece maple/jatoba neck. They are also available with a burled poplar top and high-quality electronics and components. 
They have a rich and deep sound with lots of tone sculpting possibilities (3-bad active on-board EQ). Unlike the B Series, the D-4 is lighter than a Fender J or P bass.
You can get the same model as D-4, D-5, or D-6 – the number reflects the number of strings.
The 5 & 6-string versions offer a lot of tone and value at an affordable price point. They are also good for people with small hands. They are versatile and sound good for slap tones and the look/feel of the instrument is premium.
ESP E-II Series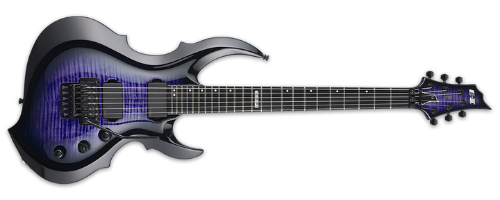 If you want something between the ESP and budget-friendly LTD series, you can consider the ESP E-II bass guitars. These Japan-made instruments are designed for professional studio and stage musicians without breaking the bank.
Among these, the GB Series offers active 4 & 5 string bass guitars with an ash body, maple neck + fingerboard, and Seymour Duncan SSB pups in a retro styling. 
The BTL Series is a more a contemporary looking instrument with a jaw-dropping spalted maple top, an Alder body and 3-piece maple neck, ebony fingerboard. They have passive electronics with Duncan SSB pups.
LTD F-Series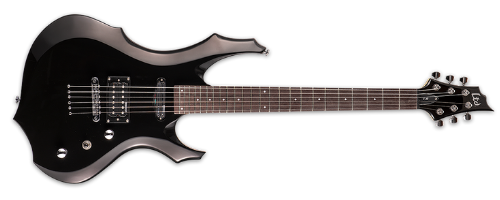 The F series looks like a mix of the B.C. Rich Warlock and Warwick Vampyre. After all, this is the series that sports the Tom Araya signature model. The electronics are pretty similar to the D Series but the necks are vastly different. 
The F-series necks are comparable to the Ibanez Soundgear necks. They are thin and easy to play with a smooth feel and good reach.
The C-shaped neck profile is 3/4″ thick at the nut, and blossoms into a satisfyingly fat width at the upper register. They have a versatile tonality and a very peculiar look, and the black satin models are certainly more 'pro-metal' among all the offerings.
Surveyor ('87) Series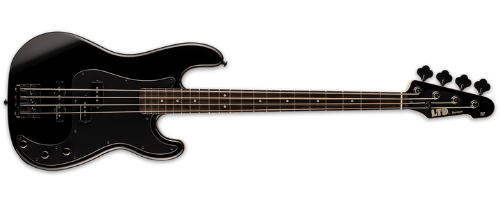 The '87 is a throwback to ESP's 1987 catalog and the most coveted bass from their classic models. It is a 34" bolt-on design with an alder body, maple neck, ebony fingerboard, and Seymour Duncan Vintage P+J pickup. 
It is a solid bass that can serve as a workhorse for many years. It is only available as a 4-string bass in an all-black or white (w/ black pickguard) finish.
Thinline Fretless Series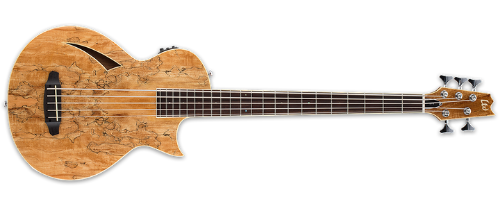 Among the versatile and varying basses in the ESP catalog, the LTD Thinline Fretless basses are certainly an instance when ESP knocked it out of the park.
These fretless ultra-thin guitars have a gorgeous mahogany body and a spalted maple top with a set-net 34" scale. 
They come loaded with a Fishman SONICORE pickup, TL-3 preamp, and a built-in tuner. This video is a good reminder of why the 'metal axe' tag just doesn't hold for ESP bass guitars: