Choosing between the Aguilar TH500 and the Mesa Subway D800 is a dilemma that bassists are all too familiar with. These two 'category giants' have locked horns for the better part of the last decade, much to the bewilderment of bass players.
The Aguilar TH500 sounds mid-rich, gritty, and vintage with an affable and musical tone coloration. It is a unique and celebrated sound that always retains a wooly-ness – a bit of hair that gives is a gritty character but doesn't let it sound absolutely clean.
The Mesa Subway D800 is transparent and modern with noticeable brightness and an extended high-frequency range. It has an open tonality and great dynamics but can't approximate the punch and grit of the TH500.
Both the TH500 and D800 are venerated amps, however. Many bassists have owned both, and the consensus is that tonal preference is the primary deciding factor that determines which of these bass amp heads will dominate your rig.
Before our head to head comparison, let's briefly look at the salient features of each amp.
Aguilar TH500 Overview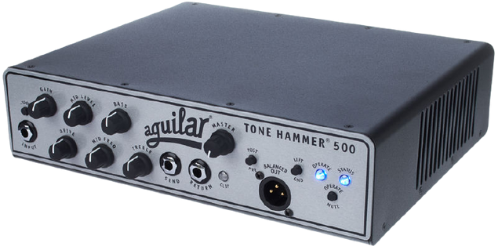 The TH500 is emblematic of the Aguilar sound and is colored with girt and vintage warmth.
| | |
| --- | --- |
| Type | Class D Solid State Preamp |
| Power rating | 250 watts (8 Ohms) & 500 watts (4 Ohms) |
| Weight | 4 lbs |
| Made in | USA |
The TH500 has been around longer and it is venerated for its tube-like and/or old school sound. It has been the mainstay of many great rigs and recordings over the years, and it continues to dominate the category because of its 'familiar' tone and vintage oomph.
Despite its popularity, it doesn't work in every musical context. For one, it cannot enter the clean territory without breaking up at high volumes. It would be silly to expect it to approximate the clear/transparent tones of a GK MB800 or Mesa Carbine (or even the D800). 
However, that isn't what it was designed to do. The TH500 was designed to sound like nothing else in the market, and it still manages to retain that. It is one of the best 'non-tube tube amps' for the money.
The Aguilar has depth in the sub-bass and thick highs but it isn't designed to be clear or transparent. "Thick" hints at the compressed high-end frequency. Compressed doesn't mean that it is bad, though. You can still get a range of tones from the EQ panel. It just means that even as the tones change radically, the tonal character will remain the same.
If you don't like the tonal character, none of those different tones will work for you. 
Mesa Subway D800 Overview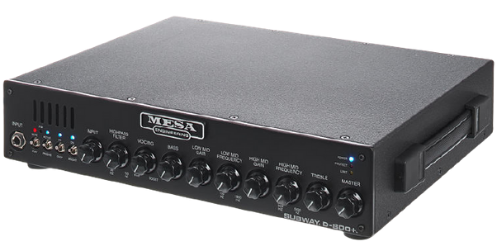 The Mesa D800 is an exemplary lightweight class-D amp with great headroom, volume, and tone sculpting. It shines in the clean-punch department but falls short on grit.
| | |
| --- | --- |
| Type | Class D Solid State Preamp |
| Power rating | 400 watts (8Ohms) & 800 watts (4Ohms) |
| Weight | 5.5 lbs |
| Made in | USA |
The D800 is a no-frills unit with high quality components, self-explanatory controls, and meticulous design packaged in a light and affordable unit. It offers incredible power, a complex voice, variable-frequency response with a copious amount of headroom.
The voicing ranges from flat to a "smiley-face" tone once you crank it up, with boosted lows and treble and a somewhat tame and tempered midrange at higher settings. 
It sounds great in various styles and genres but will need some experimentation with the control-knobs to find a sound that will work for you. 
The D800 is a versatile unit and if you are familiar with their other amps – you will understand what I mean when I say it can go from Walkabout to Carbine rather easily.
The D800 is designed to pair with the Mesa Subway Ultra-Lite cabs that have neodymium drivers and a horn tweeter. This matching leads to wide-ranging tones with ample power and high fidelity.
Now that we have a basic understanding of the two units, let's compare the the key features of these two bass amps.
TH500 vs D800: construction
Mesa and Aguilar are two big names in the bass amp world, and both amps are no doubt well made in every aspect. They have high quality components, great circuits, and durable casing. They are portable, look elegant, and fall in the 'ultra-lightweight Class D' category. 
The TH500 is the lighter of the two and fits easily in a pouch or laptop bag. However, the difference isn't substantial. Overall, they both are top class units – rock-solid and reliable amps.
TH500 vs D800: tone
You know exactly how different the inherent color of both units is when you set both amps to flat. TH500 has a heavy roll-off in the high-end and the treble range sounds fat but compressed. The mids on the Tone Hammer have the 'Aguilar personality' that can be described as gritty and vintage sounding. 
However, the TH500 is hi-mid heavy and the 3-band EQ doesn't allow you to cut or boost hi-mids or lo-mids. The amp also lacks the high-end clarity and deep lows of the D-800.
Mesa scores on versatility – the D800 is very clean and packs a lot of range in its sensitive 4-band EQ. The gain allows enough grit to add a rancorous edge to the bass tone. It can fit into the beefy rock end of the tonal spectrum but not as convincingly as the TH500. 
The deep switch can also come in handy when you want to boost low frequencies and lower the HPF cutoff.
Mesa also edges out the TH500 on EQ sensitivity and tone sculpting. The TH500 is good for the vintage sound and can do the "mild break up" using the gain, drive, and mid controls. But the Control Panel is unintuitive and it takes a while to figure out how these three knobs interact with each other (and the sound).  
Aguilar has more tone coloration than the relatively transparent D800. Conversely, many bass players describe this TH500 'color' as fuller and more musical as compared to the 'sterile' transparency of Mesa. Subjective as this may sound, tone color is certainly a big reason for TH500's success.
Again, Aguilar has more punch, especially in the mids. The Subway 800 isn't as good when it comes to punch. It does clean very well but has very little growl, which is great for modern tones, fusion, and jazz. However, if you play rock you may find that the TH does a better job at punching through.
TH500 vs D800: versatility
Based on the tone assessment, it wouldn't be unfair to say that the D800 is more versatile. Mesa offers more ease of use in dialing tones and the wider frequency response and extra headroom are also useful in certain situations.
The TH500, like a Precision Bass, is known to do 'that one thing' and it does it really well. This doesn't imply that it is not flexible at all, but rather it highlights that the TH500 is famous for its coloration and gritty (often called wooly) tone – which is warm, thick, and mid-rich. If you want versatility from an Aguilar, you should consider the AG700 (more on that later).
TH500 vs D800: power
Dollar for dollar, the D800 seems to be the better bargain. Yes, it is true that it has marginally more power to offer, but don't confuse wattage with volume, a common misconception. Despite the difference in wattage, there is very little difference in volume. 
The main point to consider is, do you want the tone to break up or do you want it to sound clean and transparent at high volumes?
TH500 vs D800: price & value
Both units are priced similarly and fall in the $700 – $800 range. The used market price is also similar. Despite comparable pricing, the watts are different. 
The TH500 has headphone and aux inputs, which can be important to someplayers. The D800 has an FX loop with a 6db gain. 
Besides this, there is no sizable difference in build quality, component quality, and power between the TH500 and the D800. Therefore, your style of music and tonal preference will likely dictate your choice.
Other amp alternatives
Aguilar AG700
The AG700 is worth mentioning as an alternative to the TH500. It has the same capabilities as the Mesa D800 when it comes to producing the deep lows but it sounds significantly brighter than the TH500. It also stays clean at higher volumes. Moreover, you get move power, an additional 2.67 ohm, and a more intuitive EQ panel.
Once you hit high powder, the AG700 loses the 'Aguilar color' and gritty/wooly tone and begins to sound more clean and sterile, which is good if that is the sound you are looking for. You can add the grit/grind with an overdrive pedal. 
GK MB800
The Gallien Kruger MB800 can also be a decent alternative to the Mesa. It sounds clean and natural, and offers more headroom with richer lows than the D800. The D800 offers more versatility, easier tone sculpting, and sounds less hi-fi (more organic).
Tecamp Puma 500
The Tecamp P500 is close to the clean and transparent sounds of the D800. It has the same openness, clarity, and responsiveness as the D800. The price is roughly the same, and you can find a good used unit around $500. 
Aguilar TH500 vs Mesa D800: final words
As is always the case with gear, it is ideal to test the two amps out with your gear because your rig will interact with their sounds in unique ways. 
They both sound stellar through a variety of cabinets. If you have the chance, try each unit using at least two or three different cabs and drive them hard to observe their break up, headroom, and high-end clarity.
***
Photo credits:
Featured images: courtesy of Aguilar and Mesa Boogie