The percussion family of instruments contains a wide variety of instruments to play. While many percussionists learn multiple instruments, you have to pick one to start learning, so let's study several choices and which might be the best for you. 
The table below lists 10 popular percussion instruments (11 with drum kit) ranked form easiest to hardest: 
| Instrument Name | Percussion Type | Music Style | Reading Music |
| --- | --- | --- | --- |
| Bass Drum | mallet/beater | orchestral, wind band, marching band | required, easy |
| Cymbals | hands/sticks | orchestral, wind band, marching band | required, easy |
| Tambourine | hands/sticks if mounted | folk, classical, samba, gospel, pop, country, rock | not required, easy |
| Timpani | mallets/sticks | orchestral, wind band rock, jazz | required, moderately easy |
| Cajon | hands | tondero, zamacueca, Peruvian waltz, flamenco, rumba, blues, pop, rock, funk, and jazz.  | not required, moderate |
| Djembe | hands | traditional African music, world pop music | not required, moderate |
| Conga/Bongo | hands  | Latin and Afro-Cuban genres: rumba, salsa, conga. Jazz | Not required, moderate |
| Snare Drum | sticks | orchestra, wind band, marching band | Required, difficult |
| Tabla | hands | Hindustani classical, pop, folk | Not required, difficult |
| Xylophone – Vibraphone – Marimba – Glockenspiel | mallets  | orchestral, wind band, marching band, pop, jazz  | Required, very difficult |
| Drum kit | sticks | rock, jazz, pop, country, blues | Not required, very difficult |
A large part of what makes some percussion instruments easier to pick up than others is whether they are pitched or unpitched instruments. Pitched instruments such as the xylophone are overall more complex than unpitched instruments like the bass drum. 
Bass drum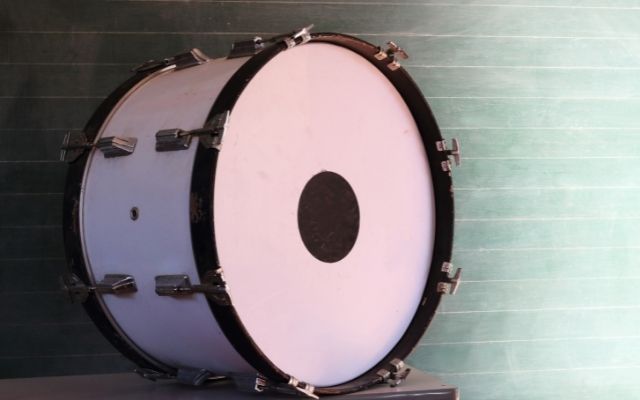 Percussion type
The name bass drum can be used to refer to three different styles of instruments. There is the orchestral bass drum, marching bass drum, and the kick drum. 
A orchestral bass drum, or gran cassa in Italian, is a large drum mounted on an adjustable frame. The frame holds the drum and allows the player to adjust the angle of the drum for playability. 
The orchestral bass drum is played using a large mallet or striker, that is sometimes also called a beater. The most common striker for the concert bass drum is a large, heavy felt-covered mallet. 
The marching bass drums of the marching band can be of several sizes and are mounted to a harness so that the player can carry the instrument. Marching bass drums are played using both drum heads and both hands, using two matching bass drum mallets. 
Music style
The orchestral bass drum is used in classical and wind band music. The big, deep sound provides color and adds weight to the music.
Marching bass drums are used exclusively in marching and pep bands, which often play contemporary genres such as rock and pop. 
Reading music
One of the easiest aspects of playing the bass drum is the simplicity of its music. Bass drum players will never need to worry about pitches, chords, flats, sharps, accidentals, key signatures, ties, slurs, trills, and other techniques/musical notations because it is an unpitched instrument. 
Bass drummers do need to learn musical durations, or how long each note and rest symbol last. Learning how to count and apply time signatures is also essential, and bass drum parts may have multiple measures of rest to count, which can be challenging. 
Beginning bass drum music will mostly be quarter notes, quarter rests, half notes, and half rests. 
Why is it easy / why is it hard
Bass drum is easy because it only reads rhythm, and the rhythms remain simple even in advanced music. 
The marching bass drum does get challenging when a bass line is being employed on the marching field. Coordinating 4 to 6 different bass drums that are playing their own pitch within a musical line can get somewhat complex. 
Other remarks
There is not nearly as much content or techniques to learn on bass drum as there are with other rhythmic percussion instruments like the snare drum. 
Cymbals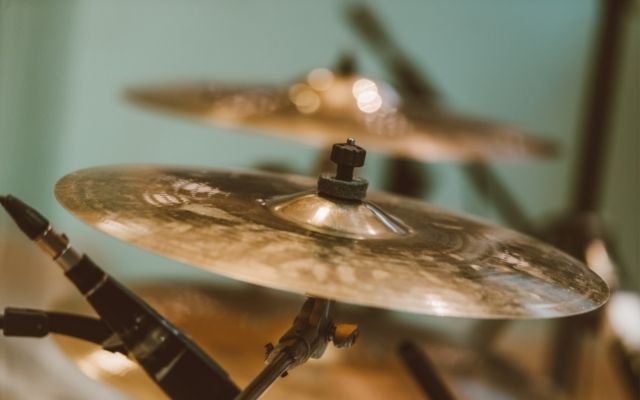 Percussion type
There are several different types of cymbals to play, with the major ones being crash cymbal and the suspended cymbal.
Crash cymbals are held with hands and essentially crash together to create a splash of sound. Suspended cymbal uses yarn mallets and drumsticks rolled or tapped on the top of the cymbal. 
Music style
Suspended cymbals and crash cymbals are heard in music for orchestra and marching band. 
Reading music
To play cymbals in a marching band or orchestra, reading music will be required. 
The trickiest part of reading music for cymbals is knowing when to play. Cymbals tend to be used sparingly within a piece of music, so players will need to be attentive to counting rests. 
Why is it easy / why is it hard
There is more technique to crash cymbals than meets the eye, but once the basics are established, it is an easy instrument to play. There is very little rapid playing, and the parts are not demanding. 
The crash cymbals get more difficult in marching band when visuals are added to the playing. Some marching bands employ a cymbal line that performs flashy, synchronized movements within their playing. 
Other remarks
Cymbal players often double on multiple auxiliary instruments, such as other cymbals, tambourine, and triangle. Regardless, the music continues to be more simple since these instruments are primarily added for occasional effects, so the parts are less active.
Tambourine
Percussion type
Tambourine is most often played using the hands and fingers to tap or hit the instrument. It is also possible to mount it on a stand and play it with sticks too. 
Music style
A versatile instrument, tambourine is heard in many genres including folk, classical, samba, gospel, pop, country, and rock. 
Reading music
In orchestra or band settings, it will be required to read music to play tambourine. In less formal settings in pop or rock music, the tambourine is often played without sheet music. 
Regardless, tambourine music is simple. There is only one line to track notes and rests, and at the beginning level, the music consists of mostly quarter notes and quarter rests. 
Why is it easy / why is it hard
Outside of classical music, tambourine is simple to play because it mostly involves striking simple rhythms, often in a consistent pattern. The difficulty increases when exploring additional sounds such as rolls.
Thumb and finger rolls are advanced playing techniques where the middle finger or thumb is moved around the rim of the skin with some pressure applied. To get the desired effect, the finger/thumb must bounce along the head of the tambourine rapidly to produce the roll. 
Other remarks
More advanced tambourine music still remains relatively simple compared to other percussion instruments at the same level.
Timpani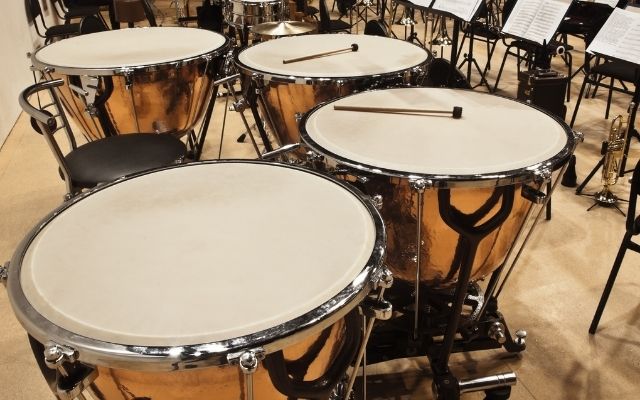 Percussion type
The timpani is a pitched percussion instrument consisting of typical four or five drums of varying sizes and pitches. The pitches of each drum are adjustable, commonly using a pedal to adjust the tension of the drum head. 
Timpani drums are played using mallets made of various materials such as felt wrapped wood, cork, and leather. 
Music style
Traditionally an orchestral instrument, timpani appears in classical and wind band music often. The timpani has also been used in rock and jazz music on occasion. 
Reading music
Music for timpani has both pitch and rhythm. Each pitch is notated on the bass clef staff, and the player determines which notes belong to which drums and tune them accordingly. 
Most often, reading music will be required to play the timpani in an ensemble.
Why is it easy / why is it hard
Getting the best sounds takes a lot of practice. Also, because the timpani has a lot of resonance, dampening or muffling is a large part of playing, otherwise note lengths would go on longer than indicated. 
Learning to tune timpani properly is a challenging skill to learn at first. The player must develop their ear for pitch and at minimum understand how the musical alphabet and octaves work. 
Other remarks
While timpani is a pitched percussion instrument, it has more limitations to what pitches it can play in comparison to the keyboard instruments like xylophone.
The number of pitches to read and play is mostly limited to the number of drums you have, not including if the music changes tunings of a drum within the piece. 
Cajon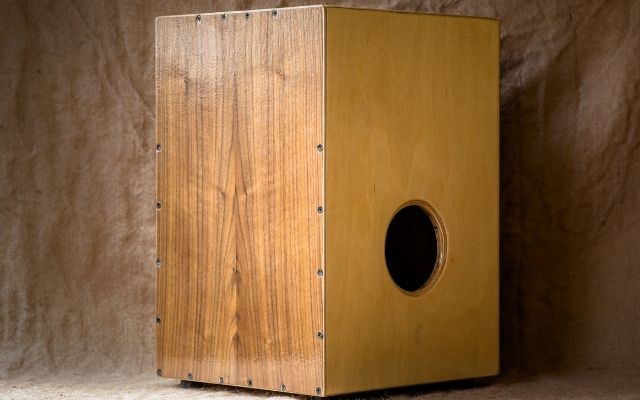 Percussion type
The cajon is a box-shaped instrument played by slapping with the hands. It can also be played using brushes, mallets, or sticks.
Music style
Originally from Peru, the cajon is heard in Peruvian musical styles such as tondero, zamacueca, and the Peruvian waltz.
Flamenco and modern Cuban rumba music also use the cajon extensively. It is also popular in blues, pop, rock, funk, and jazz. 
Reading music
Many people pick up playing the cajon without reading music. It can easily be played by ear.
Sheet music for cajon features notes written on different spaces on the staff that indicate the different sounds to be created by specific types of strikes or slaps. 
Why is it easy / why is it hard
Like other hand-based drums, playing the cajon involves learning how to strike the instrument to create various tones. On the cajon,the basic strokes are bass, slap, touch, and open.
This gets more difficult when combining all of these sounds in the rapid, often syncopated rhythms found in music for cajon.
In addition, there is an advanced technique that involves the foot of the player bending the pitch by pressing the heel on the box in particular places. 
Other remarks
While it can be played by ear, the cajon is more difficult than it appears. However, it is generally not as complex as pitched percussion instruments or the drum kit. 
Djembe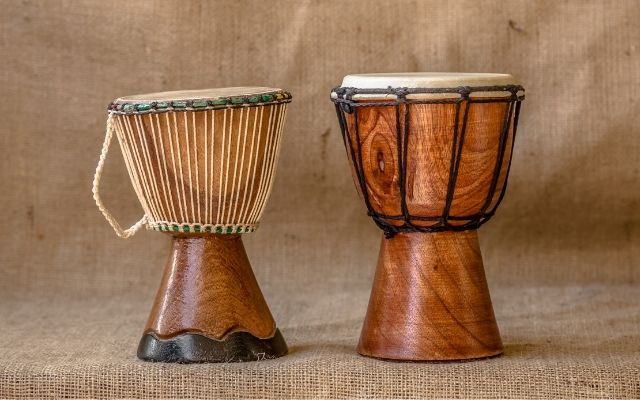 Percussion type
The djembe is a drum that is held between knees and played with the bare hands to create three tones: bass, tone, and slap. These approaches create low, medium, high tones using various striking techniques and positions.
Music style
Most frequently played in traditional African music, the djembe is primarily an ensemble instrument. It was made for dancing, singing, and clapping, and encouraging audience participation in a ceremonial fashion.
Nowadays, the djembe is also often used in world pop music including reggae. 
Reading music
Written transcriptions of djembe are rarely used and tend to be imprecise. The improvisatory nature and feel of djembe playing is difficult to capture on paper, and reading music is not required. 
In a djembe ensemble, there is a lead djembe and the accompaniment. The accompaniment plays in cycles with repetitive patterns, while the lead is improvistory and inspired by dancer's movement.
Why is it easy / why is it hard
Learning the djembe at the beginning is easy. Simple binary rhythms are often played, and there are only three main techniques to learn with your hands (tone, bass, slap). 
Skilled players use these sounds to create complex rhythmic patterns that sound as if more than one drummer is playing. Masters of the instrument can achieve up to 25 distinct sounds
Other remarks
Compared to other hand drums like conga/bongo and tabla, the djembe is notably easier because there is only one drum, and the skin is thinner hence easier on the hand. 
Conga/Bongo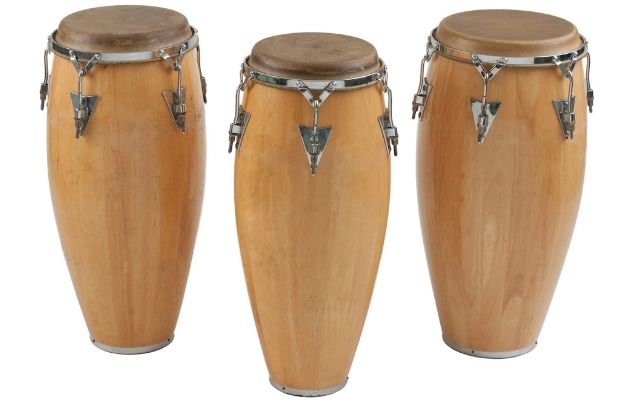 Percussion type
Both the conga and bongo are hand drums. Bongos are played with one or three fingers, and conga primarily uses the whole hand. In some music, it can be played with a mallet. 
Music style
The conga and bongo are primarily heard in Latin music and Afro-Cuban genres such as rumba, salsa, and conga. They are also heavily used in jazz. 
Reading music
You can learn basic conga/bongo rhythms by memory, so reading music is not required at first.
The notation itself is more complicated than one line instruments like snare or bass drum, but simpler than keyboard percussion like the xylophone.
Music for conga and bongo is full of Latin rhythms, which are heavily syncopated and difficult to count and perform. Also, there are pitches notated for the different levels of tones. 
Why is it easy / why is it hard
Both the conga and bongo are relatively easy to start with and play with decent sound. Experimenting comes pretty naturally, and there are few specific techniques to master such as the open tone, muffled/muted, bass tone, and slap tone. 
Glissando and pitch bending on the conga is a more advanced technique. 
Other remarks
Conga and bongo can get more complex than other drummed percussion like the bass drum because of the multiple tones (high, medium, low) that can be produced based on how the hand or fingers strike the drum. 
Snare drum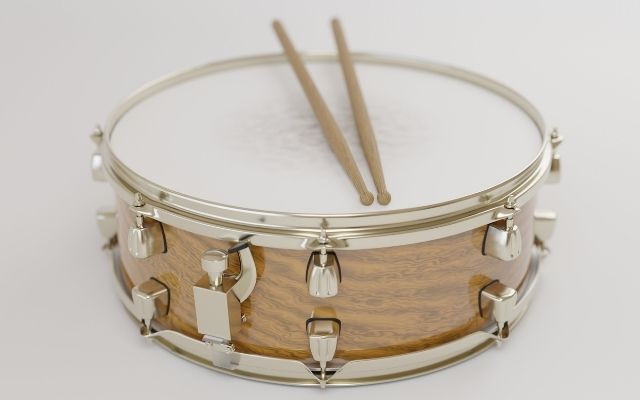 Percussion type
The snare drum is played by striking two drumsticks on the top drumhead. The bottom drumhead has a series of stiff wires held under tension against it, which are the snares. 
An orchestral snare drum is played standing with the drum in a heightened stand. When used in a drum kit, a lower stand is used for sitting height.
The marching snare drum is worn on a harness. 
Music style
Much like the bass drum, the orchestral snare drum is a staple instrument in classical and wind band music.
The marching snare drum is played in marching band, which focuses more on contemporary styles of music like pop and rock. 
Reading music
In most instances, it is required to read music for snare drum. Initially, snare drum music will mostly contain quarter notes, quarter rests, eighth notes, and eighth rests. 
The music for snare drum can get extremely complicated at the late intermediate to advanced levels. The rhythms are more complex with sixteenth notes and even thirty-second notes. 
Why is it easy / why is it hard
Snare drum is one of the harder instruments on this list because of the sheer amount of technique, rudiments, and chops needed to play the instrument effectively. Also, snare drum parts get very rapid and require exact precision. 
There are various strokes to learn that require superior stick control. Snare players work toward learning 40 different rudiments that contain special sounds and techniques like diddles, rolls, and flams. 
Other remarks
Snare drum is often recommended for beginners because it develops the core rhythms and basics. It is one of the most difficult unpitched percussion instruments to play at an advanced level. 
Tabla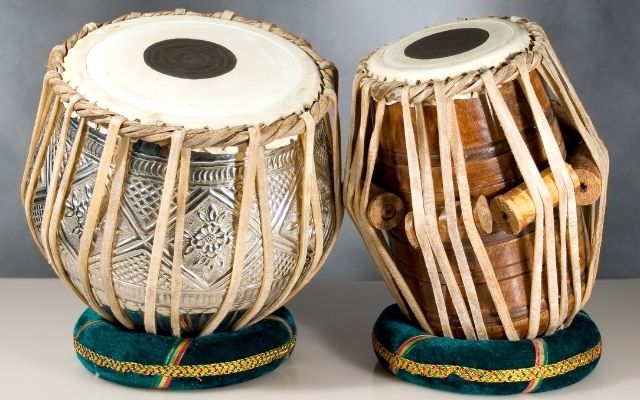 Percussion type
The tabla is an instrument consisting of two hand drums of different sizes and shapes. The smaller drum creates high tonal sounds while the larger drum functions as the bass.
Music style
The principal percussion instrument of Hindustani classical music, tabla can be played solo, as accompaniment, or in large ensembles.
It is also used in popular and folk music from India and neighboring South Asian countries. 
Reading music
Tabla is orally passed down in person by tradition, but there is a unique written notation that uses mnemonic syllables known as bol. There are two popular systems for writing notations that have bols written in a script such as Latin or Devanagari. 
Why is it easy / why is it hard
The playing technique of tabla is complex, with extensive use of palms and fingers. 
There is a vast amount of rhythms and sounds to learn on tabla. To play the tabla, you must learn the rich language, which features around thirty different tones, or bols. 
Other remarks
Aside from the sheer amount of sounds possible, tabla is more difficult than other hand percussion like the conga, bongo, or djembe because of talas.
Talas are rhythmic cycles, and there is a significant amount of them – around several hundred if you count them all. 
Xylophone – vibraphone – marimba – glockenspiel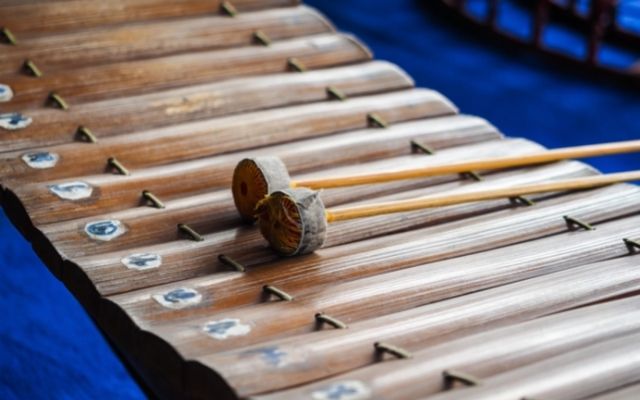 Percussion type
The xylophone, vibraphone, marimba, and glockenspiel are all keyboard instruments and are related to the piano.
They are pitched percussion instruments that are played using mallets of varying materials and hardness including yarn, cord, poly, brass/aluminum, rubber, and wood.
Music style
All four instruments are traditionally played in classical and wind band music. They can all be played in marching band music if the group employs a sideline percussion.
In fact, there is a form of glockenspiel called the bell lyre that has a strap attached so the player can march and play the instrument. 
These four instruments can be heard in nearly all genres of music, including popular music. The vibraphone is particularly popular in jazz. 
Reading music
Because these instruments are pitched, the player must learn to read both rhythm and pitch.
All four are written on the treble clef staff, which will involve learning pitches, flats, sharps, accidentals, key signatures, ties, slurs, trills, and other techniques/musical notations. 
It would be overly difficult to attempt to learn one of these instruments without reading music. 
Why is it easy / why is it hard
Learning to read keyboard percussion music is challenging because it involves additional musical elements that drums and unpitched percussion instruments do not.
Because of this, there is a steep learning curve due to coordinating learning pitches and rhythm on the page along with getting physically familiar with the instruments. 
Other remarks
These keyboard instruments also involve their own mallet techniques such as rolls and glissandos.
Modern music may require the simultaneous use of four to six mallets, which adds another layer of complexity. 
Drum Kit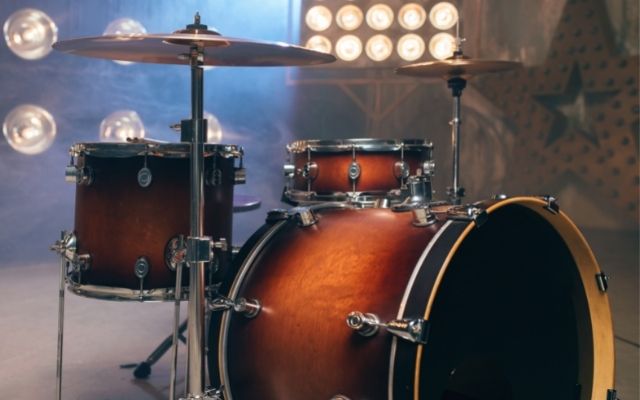 Percussion type
Drum kit is a collection of several percussion instruments including snare drum, a kick drum (bass drum), tom-tom drums, and cymbals.
Accessory percussion instruments such as the tambourine, cowbell, or woodblock can be included too. 
The drum kit is played primarily using two drumsticks and two foot pedals. One pedal is for the kick drum and the second is for the hi-hat cymbal. 
Music style
The drum kit is used in multiple genres of music, including rock, country, jazz, blues, and pop.
Reading music
In general, percussion music involves getting to know the different symbols and what they represent. Because the drum kit features various instruments, there are a large number of symbols to learn. 
To play the drum kit casually or in most popular music, you do not need to read music. To be a professional, however, reading music is often required. 
Why is it easy / why is it hard
Using the hands and feet to play multiple rhythmic lines, drums, cymbals, and other instruments demands incredible amounts of hand-eye-foot coordination. 
Other remarks
The configuration of a player's kit is customizable and can be extended or minimized depending on its musical purpose.