It can be exciting for a clarinet student to feel ready to move up to a more advanced instrument.  But with the wide variety of clarinets available, it can also be dauting. Among all the candidates, the Yamaha YCL-650 Bb clarinet is worth a closer look.
The Yamaha YCL-650 Bb clarinet is perfect for the student who is moving up to a wooden instrument, or for someone who is doubling on clarinet. It's a quality professional clarinet at an affordable price. Clarinetists find that its easy response and warm tone make it an instrument worth considering.
Below we take a close-up look at the clarinet's features and examine the pros and cons of this instrument.
Yamaha YCL-650 Bb Clarinet features
The Yamaha YCL-650 is made in Japan and has a generous amount of handcrafting and hand finishing. It's currently selling on many websites for $1,979.99 with a $100 rebate.
Body
A special feature of the Yamaha YCL-650 clarinet is its unstained Grenadilla wood. Traditionally, wooden clarinets are stained black, but this instrument displays the beautiful and unique quality of the natural wood, which can be brown with some red streaks running through it..
The YCL-650 Bb has a unique bell design that features what's called a resonance chamber. This gives it an easier and fuller response from low to high, and also improves the intonation of the low notes.
Included Parts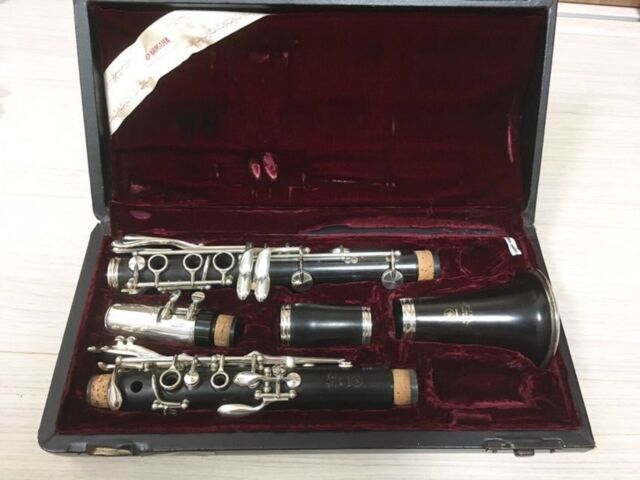 The adjustable thumb rest is a useful detail that Yamaha has included. Given the wide variety of hand sizes, this allows the clarinetist to custom fit the instrument for added comfort.
As an increasing number of clarinet players use a neck strap, it's unfortunate that the thumb rest doesn't include a strap ring. However, there are available clarinet neck straps that come with a leather strip which fits around the thumb rest to attach the neck strap.
The Y4CM mouthpiece is part of Yamaha's Custom line which is developed for professional clarinetists. While most lower-level mouthpieces are plastic, this mouthpiece is made from ebonite, which is a hard rubber that produces a better tone. It's hand-crafted in the final production to ensure a high quality.
One reed is supplied, but more reeds will need to be purchased separately.
Keys
The keys are silver-plated. Most lower-priced professional clarinets are nickel-plated. Nickel plating is not as high quality, and won't last as long as silver plating.
During regular maintenance check-ups, the silver-plated keys will need to be polished by a musical instrument repair shop.
Pads
The type of pad used to cover the holes of the clarinet is important. It needs to seal the hole completely without adding noise when closed.
The Lucien deluxe double skin pads on the YCL-650 Bb clarinet are a step up from the standard pads often used on beginner and intermediate clarinets.
Case
The pochette, wooden case is Yamaha's CLC-30 case. It comes with a case cover to protect from bad weather.
Warranty
Yamaha provides a limited 5-year warranty.
Who is this clarinet for?
The YCL-650 Bb clarinet is an ideal instrument for intermediate to advanced players who are ready for an entry-level professional clarinet. It's a good choice when transitioning from a plastic to a wooden clarinet.
With details that many of the higher-priced professional clarinets feature, the relatively lower price is a real advantage.
Typically, a beginning clarinet student starts out with a standard plastic instrument. It responds more easily, is lighter, and can stand up to the treatment a middle schooler might give it. As they move into high school, the clarinetist may be finding they're getting more serious about their playing.
It's at this point that they often need a better made wooden clarinet that will give them a more mature sound, play better in tune and allow them to develop as a musician.
The YCL-650 clarinet fits this need very well. It's made with the budget-conscious player in mind, providing a professional-level instrument at a lower price than many of the other high-end clarinets.
This clarinet is also useful for musicians who double on clarinet. E.g. a saxophonist who also plays clarinet may not want to invest as much money on their second instrument as a top-of-the-line professional clarinet typically costs.
Yamaha YCL-650 Bb clarinet pros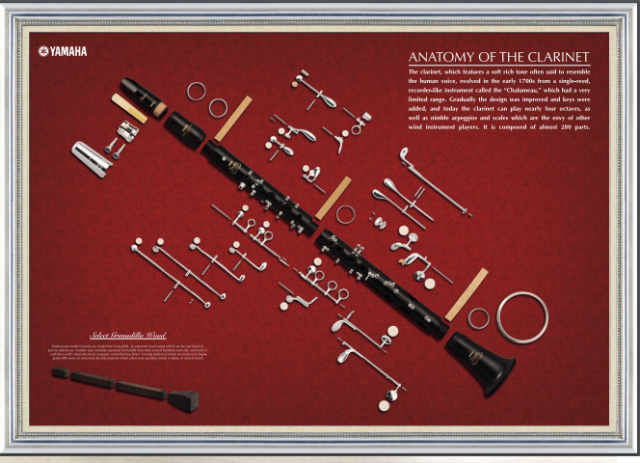 Here are a few of the many positive responses to the YCL-650 clarinet.
Beautiful, warm tone: especially for someone coming to this instrument from a plastic clarinet, the difference in sound is immediately noticeable.
Easy response: it requires less effort to produce a consistent, in-tune sound.
Good projection: the player is able to get a big, full sound.
Comfortable keywork makes it easier to play: the keys respond quickly, making for more accurate playing, even when the notes are moving fast.
The clarinet feels great to play: Yamaha has designed the YCL-650 to fit well to the hands. It's comfortable to hold, and moving to different notes feels easy. This can make a big difference when it comes to successful playing.
Beautiful natural stained wood: each Yamaha YCL-650 looks unique, with brown and sometimes red wood grain.
Competes with the more expensive professional models: some feel that the YCL-650 clarinet compares in quality to the Yamaha SEVR and the Buffet R13, which are top-of-the-line professional instruments..
Durable: many clarinetists rave about the instrument even after playing it for 10 or 15 years.
Yamaha YCL-650 Bb clarinet cons
Most of the negative responses involve the instrument's accessories.
Case is tiny: the compact case provided doesn't have room for much more than the clarinet.
Lid to the case won't stay open: when trying to assemble and disassemble the instrument, the case lid tends to close down.
Mouthpiece isn't recommended: most clarinetists at this playing level are beginning to use more specialized mouthpieces, which they must purchase separately.
Related questions
Is there a warranty on the YCL-650?
Yes. Yamaha provides a limited 5-year warranty.
How does the YCL-650 compare to a Buffet Crampon (in a similar price range)?
The Buffet Crampon clarinet which is in the same price range is the E13. There are a few differences in their features. The E13 has leather pads, which are more durable than double skin pads. On the other hand, the keys on the Buffet E13 are nickel-plated, not silver-plated.
For many, the Yamaha mouthpiece provided is better than the Buffet stock mouthpiece that comes with the E13.
| | | |
| --- | --- | --- |
|   | Yamaha YCL-650 | Buffet Crampon E13 |
| Level | Professional | Student |
| Key System | 17 keys, 6 rings | 17 keys, 6 rings |
| Barrel Length | 65 mm | 65 mm |
| Body Material | Natural finish grenadilla | Black stained grenadilla |
| Tone Holes | Tapered inset type with tapered undercut | Undercut |
| Key Plating | Silver | Nickel |
| Thumb Rest | Adjustable | Adjustable with ring for neckstrap |
| Mouthpiece | Yamaha 4CM Hard rubber | Buffet Crampon |
| Spring Type | Blue steel needle | Blue steel, flat and needle |
| Pad Type | Lucien deluxe double skin | Leather |
Both the Buffet and the Yamaha lines have their own unique tone quality that defines their instruments. Many feel the Buffet sound is what clarinetists should aspire to, while others believe the Yamaha sound is superior.
Some feel that the Yamaha YCL-650 is a higher quality instrument with a fuller and more professional sound. The best way to compare these two instruments is to play them side-by-side. Only then can you get a sense of ease of response, tone, intonation and comfort.
Many clarinetists have to choose between the Buffet Crampon E13, the Yamaha YCL 450, and the Yamaha YCL 650. They often feel that even the YCL 450 has better build quality than the E13 (e.g. the ring on the latter's bell rotates freely). Meanwhile, most players find the YCL 650's sound rounder and more refined than the YCL 450.
Final Words
Whether you're a clarinet student looking to step up to a professional model clarinet or a musician who doubles on clarinet, the budget-friendly Yamaha YCL-650 is a model to consider. It has a beautiful tone, an ease to the response, and is fun to play.