Ibanez GSR200 and Squire Affinity Jazz Bass are two widely sought after models in the entry-level bass guitar segment. They differ in terms of tonewood, neck radius, electronics, and size/weight.
Although the decision may be genre-specific, Squier often wins on account of its classic looks, versatile tone, and easy-to-mod components.
| | Squier Affinity | Ibanez GSR200 |
| --- | --- | --- |
| Who is it for? | Students, intermediate players | Students, casual players |
| Build & playability | Heavier, chunkier, narrower neck radius, heavier | Fast neck, slim body, ergonomic design, lighter |
| Electronics & tone | J-bass tone, 2 single-coil pickups, vintage or aggressive |  P/J config, split single-coil neck pickup, single coil bridge pickup. More rounded tone |
| Setup & upgrades | Lots of value by upgrading with custom shop Fender parts | Can easily be upgraded but often better to switch to SR series |
| Price | $225 | $199 |
While Squier is often the preferred choice, there may be situations where you might benefit from owning the GSR200. In this article, we'll walk you through the key features of the two instruments to help you decide which one of these is best suited to your style and needs.
Squier Affinity vs Ibanez GRS200: overview
The Affinity series shares many of the design elements of the flagship Fender models and can be a stepping-stone to owning an American-made top-end Fender, a dream many bassists share.
The time-tested Squier Affinity Jazz Bass delivers a great sound, playable neck, and multipurpose tone. It has dominated the entry-level market as a go-to bass guitar for many beginner-to-intermediate level bassists.
A part of its appeal is its iconic styling, which includes the classic Fender J-shaped body with a replaceable Fender pickguard. It is available in 4 finish options that include black, silver, red, and brown sunburst.
The GSR200 offers excellent value for money and can be a rock-solid first bass guitar. It is a well-crafted instrument with proprietary P/J pickups and active electronics that allow you to dial serviceable tones for rock and metal.
It is one of Ibanez's most popular "student models" because of its value to cost ratio and a wide variety of glossy finish options like Red, Jewel Blue, and Metallic Gray. There's also a GSRM20 miKro bass guitar, a variant designed for children and young adults.
| | | |
| --- | --- | --- |
| Bass Make/Model: | Ibanez GSR200 | Squier Affinity Jazz Bass |
| Body | Agathis | Alder |
| Neck | Maple | Maple |
| Fretboard | Jatoba | Indian Laurel/Rosewood |
| Frets | 22 Medium | 20 Medium Jumbo |
| String Spacing | 19mm | 19mm |
| Bridge | Accu-Cast B20 | Fender 4-saddle |
| Pickups | P/J style: Neck: Split Single Coil Bridge: Single Coil Passive | J-Style – SS Neck: Single Coil Bridge: Single Coil |
| Electronics | Phat II with Active Boost | Passive |
| Scale-length | 34-inch | 34-inch |
| Nut width | 41mm | 38.1mm (1.5") |
| Fretboard Radius | 12-inch | 9.5-inch |
| Weight | 9 lbs (4.08 kg) | 12.5 (5.7 kg) |
Who are these basses for?
The Ibanez GSR200 is an excellent entry-level bass, designed for the needs of students and casual players. It's ideal for students or musicians on a shoestring budget.
Squier by Fender Affinity Jazz Bass also caters to the needs of students and intermediate bassists. Its familiar looks and tone make it especially suitable for a first time purchase, especially if you aren't aware of what to look for in a bass.
The Ibanez GSR200 is available in 4, 5, and 6-string versions while the Squier is only available in 4 and 5-string versions. Thus, the GSR200 is an obvious choice if you want a 6-string bass.
Ibanez is relatively cheaper compared to the Squier Affinity, though not by a lot.
Build & playability
The GSR200 weighs 9 pounds vs 12.5 lbs for the Squier Affinity Jazz. This is a significant difference in the overall feel and playability.
Ibanez has a fast neck, slim body, and ergonomic design that augment the comfort/feel of the instrument. It's very student-friendly, but it may feel scrawny if your a bigger person.
The Squier has an ash body while the GSR200's body is built with agathis, a relatively inferior tone wood. Also, the Squier's fingerboard is made from Indian laurel/rosewood which has a better look and feel compared to the GSR200's Jatoba. Tonally, these two factors result in Squier producing a richer/warmer tone.
Despite the narrower neck radius, the Squier Affinity Jazz bass is comparatively chunkier on the whole. It is also more robust because of the additional weight, and less prone to neck dives. Ibanez feels more ergonomic and light because it has a slender body slab and neck.
The build and component quality of both instruments are quite similar. Neither one is really heavy or difficult to play for an average-sized person. Ibanez is decidedly sleeker and lighter compared to the Squier, but if you prefer some heft, the Affinity bass is a better choice. The ruggedly built Squier feels more durable.
Electronics & Tone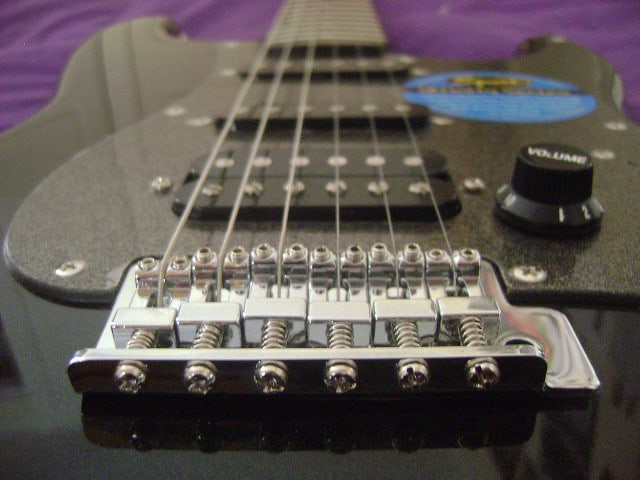 The Squier Affinity sports two single-coil pickups that deliver a J bass tone close to the classic Fender. The latter has lots of definition and clarity with a crisp high-end that sounds fabulous for funk, rock, and slap bass.
The Squier's pickups are supplemented by three knobs – two that manipulate the tone of each pickup and one for the master volume. The bass tone is multi-functional and highly responsive for the price.
The Squier sound can convincingly produce anything from vintage tones to an aggressive and burpy growl. You can dial in a wide variety of sounds using different permutations of the knobs and your amp EQ.
The GSR200, on the other hand, has a P/J pickup config with a split single-coil neck pickup and a single coil pickup in the bridge position. It has a more rounded tone but it is also susceptible to sounding muddy at high volumes.
The active EQ panel includes knobs for neck volume, bridge volume, Phat II EQ boost, and tone.
The GSR200 has a meaty low-end but lacks a bit of warmth in the highs, which tend to sound brittle with the active boost engaged. Overall, it is more aggressive but less versatile than the Squier.
It can be a good choice if you enjoy the active Phat II bass boost, which gives it some bite that works well in genres like metal, hard rock, and punk.
Since neither the Affinity nor the GSR200 are high-end models, the onboard electronics perform proportionate to the price. For students and beginners, they provide all the requisite clarity and definition.
All in all though, it can be argued that the Squier Affinity Jazz Bass outperforms the Ibanez in terms of electronics and tone.
Setup & customization
The Ibanez GSR200 has a fully adjustable Accu-Cast B20 Bridge that makes it easy to setup with hex keys when you want to alter the string height. The same is true for the Affinity Jazz Bass that sports a standard 4-saddle bridge.
Ibanez and Fender are highly regarded brands with dependable QA. They both hold tuning well and ship with a reasonably good setup.
Both instruments are playable right out of the box with no noticeable issues related to intonation and fret buzz.
Bass players may feel the need to upgrade their instrument as their playing progresses. In that regard, both these basses are easy to mod and upgrade. There are a plethora of aftermarket pickups to consider that can enhance the tone of both instruments.
Players generally get a lot of value by upgrading the Squier with Custom shop Fender pickups and hardware found in Fender's flagship models.
For the GSR200, on the other hand, while it can certainly be upgraded or customized, you might consider instead switching to an entry-level model from the Ibanez SR series.
The stock strings on both guitars are run-of-the-mill and a quick string change will certainly enhance the tone of the instruments. We recommend Rotosound, DR Sunbeams for a bright tone or hardwearing Elixirs for a warmer tone. The Rotosounds work equally well on both models.
If you want a flatwound flavor, the Squier J-Bass might be a better option. It sounds excellent with Thomastik Infeld Jazz Flats or LaBella's Deep Talkin' strings. However, these strings are an expensive upgrade better suited to intermediate players who record and gig occasionally.
Additional gear
Since neither of these instruments ships with a bass gig bag, you'll need a reliable case for transportation and storage. While you could opt for a generic brand, I recommend that you pair the GSR200 with an Ibanez Powerpad Bass Gig Bag and the Squier with a Fender FB405 Gig Bag.
You'll find great deals on "accessory bundles" on most music e-commerce platforms that offer a combination of straps, picks, tuners, and cleaning/maintenance essentials. Other than that, you should invest in a good amplifier to complete your rig.
Alternatives
Ibanez GSR200 alternatives
GSR200EX (Basswood body, Passive, Discontinued: Available Used)
GSR FM (Mahogany body, Flamed Maple, Passive, Discontinued: Available Used)
GSR SM (Mahogany body, Spalted Maple Top, Passive Electronics: Available)
The SRX 300E is another comparable alternative to the GSR200 if you can raise your budget to $350. It's available with a mahogany (or Nyatoh) body, PowerSpan humbucking pickups, and a 3-band EQ with Power Tap. The additional features and fantastic sound-sculpting possibilities make it a highly versatile bass.
Squier Affinity Jazz Bass alternatives
Squier Contemporary Jazz Bass (Poplar Ash body, SS or HH pickups, Available)
Squier Classic Vibe Jazz Bass (Poplar/Maple, SS pickups, Available)
Squier Affinity PJ Bass (Poplar, Split-coil + single coil, Available)
The Fender Squier Affinity PJ bass offers the best of both worlds with a single-coil pickup in the bridge position and a split-coil P bass pickup in the neck position. It costs the same as the Affinity Jazz bass but the dual pickup configuration allows you to dial in more rounded tones alongside the usual crisp sounds of a Jazz bass.
In summary
The Ibanez GSR200 and Squier by Fender Affinity Jazz Bass are budget-friendly guitars, ideal for beginners, students, and casual bassists. The Squier can also serve the stage and studio needs of intermediate players who gig in small-to-medium sized venues.
Both instruments deliver good value for money, with Squier often considered a better choice.
GSR200 retails for $199. It is a lightweight, sleek, and ergonomic entry-level bass suitable for people with small hands/stature. It has active electronics with Phat II boost and is available in multiple finish options.
Squier's Affinity Jazz Bass retails for $225. It has the iconic Fender look and tone. Though not comparable to the flagship models, Squier is versatile, easy to upgrade, and offers excellent value for money. It is available in 4 classic Fender-style finish options.
The J-Bass has 2 single coil picks. You can dial in tones that work well in rock, funk, blues, jazz, reggae, and RnB.
GSR200 has P/J pickups w/ active boost but sounds shrill and brittle when cranked up. It can work well for aggressive genres like hard rock, punk, and metal.
***
Photo credits:
Featured image: "Fender Squier Affinity Fat Strat" (CC BY 2.0) by м a к a т