The Rockbass Corvette and Ibanez SR often lock horns in the mid-market segment. They are both solid options for any intermediate bassist and either of these instruments can hold their own on stage.
However, they are fairly different in many aspects – especially the playing feel and tone.
The Ibanez SR500 is available in a brown mahogany finish vs a natural and (Nirvana) black finish for the Warwick RockBass Standard.
The Ibanez requires a proper setup while the Warwick had good playability out of the box. However, the Ibbys are much lighterand probably a better choice for people with smaller hands and/or stature.
The Alder body Warwick RockBass has single-coil MEC pickups, while the mahogany Ibanez SR500 has soap bar style Bartolini MK-1passive pickups. This alone is enough to expect these instruments to sound extremely different.
However, what they do have in common is the fact that both are versatile and can fit into lots of different styles and genres.
Each of them is also available in a 5-string version and offers nice variations such as the Warwick Streamer, $$ Corvette, or the Ibanez SR505 and SR500E.
Warwick RockBass are more expensive than the SR500 across all variants. However, the construction and component quality of the former feel more durable and have a higher perceived quality.
In short, Warwick has a better build quality while Ibanez offers superior playability.
Important note: this article refers to the RockBass Corvette, not the 3-knob Warwick RockBass Corvette $$ or the high-priced German-made 4-knob Warwick Corvette $$ with active electronics.
Ibanez SR vs Warwick Corvette: construction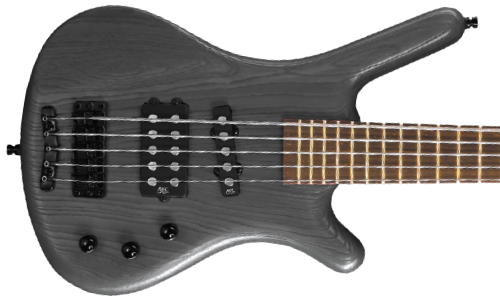 The Rockbass series gives you 20:1 precision tuners with self-lubricating gear. Warwick's Just-A-Nut III also feels stable and practicable and the Warwick 3-D Bridge, which is a feature of all RockBass instruments, feels solid and functional.
The stock strings on most models are the Warwick Red Stainless Steels with a tapered core, although some models like the Vampyre and Triumph Lite have different strings.
The Rockbass series has an "Easy Access Compartment" that lives up to its name. You can push on two latches with your fingers to open the compartment. This would be really handy if there was an active system and a 9V battery to swap, but I guess we can give them some points for making life easier for our tech guy.
All RockBass instruments ship with Warwick Security Locks (strap locks) and include a limited 2 year warranty.
The Ibanez SR500 has an Okoume body that feels light as a feather – even a bit too light if you are of big stature. We go into more detail about the 5pc Jatoba/Walnut neck in the next section.
The Accu-cast B300 bridge is a regular in their product lines and it's hard to fault. There is no information on the stock strings on these models but they get the job done.
RockBass vs SR500: Tone Test
The Ibanez SR500 basses sound crisp and smooth but some argue that while it is high on versatility, it lacks personality. The Bartolini MK-1 passive pickups in the neck and bridge are "soap bar" pickups found on many Ibanez models.
If you are planning on getting a used SR500, the 2000's models had the ovangkol necks, they had a punchier tone compared to the pre-2000 wenge necks that had less snap and more warmth.
The Warwick feels more assertive when it comes to tonality. It is fuller, deeper, and cleaner but can be hit or miss with the passive MEC pickups. The Ibanez, on the other hand, is smooth but can't approximate the growl of the Warwicks.
Many bassists perceive Warwick as exclusively beholden to a certain "rock tone" because of the role it played in the 90s in the hands of many bassists.
However, three decades have passed and it has since evolved into a brand that is pleasantly capable of multifaceted tones and subtle warmth.
Verdict: the Ibanez is a little more versatile but the Warwick Corvette Basic with MEC active electronics has a distinct tone and will give you a lush and relatively more full bodied sound.
SR500 vs Corvette: neck comparison
The SR500 rocks a bolt-on Jatoba/Walnut neck which is a common selection among all of Ibanez's mid-range bass guitars. For the SR500, they've gone for the classic rosewood fretboard with a 34" scale length, 12-inch neck radius, and 24 frets.
Warwick Corvette (Basic) has a maple neck with Ekanga veneer with a wenge or rosewood fingerboard. It has a 34" scale length, 20" neck radius, and 24 frets.
You can also go for the "Corvette Taranis" with an extra-long 35" scale and 3-piece maple laminate neck with a wenge fretboard (and active electronics).
Either way, there is a substantial difference in the neck radius between the Warwick and Ibanez. If you like the Warwick tone, you still need to play one to see how the neck feels.
They aren't as fast-playing or slender as the SR500, especially when you are working in the higher register.
Ibanez bass fan rightfully rave about the ergonomics and lightning fast necks. The neck will generally be the biggest consideration in deciding whether you like or dislike the Ibanez.
Some players swear by those thin and fast SR500 necks, while others find them flimsy or "not sturdy enough".
The Warwick necks feel like a handful, and some bass players prefer it that way. They are far from flimsy and the string space is a lot more forgiving when you want to execute some slap techniques.
Verdict: based on your style and personal preference, the ultra-slim and fast SR500 neck vs. a wider but more rock-solid Corvette neck will play a major role in the feel and playability of the instrument.
Ibanez vs Warwick bass: electronics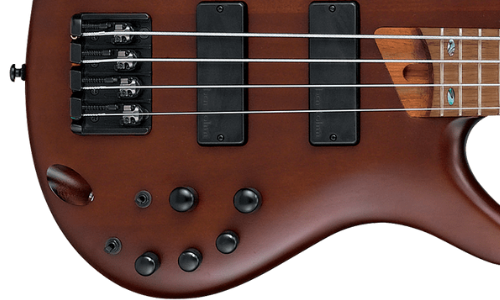 Up to now, the head-to-head comparison seems to be a close tie, but as soon as you review the electronics, Ibanez takes the passive Corvettes to the cleaners!
All RockBass models have MEC (Music Electronic Company) pickups that are made by a German manufacturer in collaboration with Warwick. The MEC electronics aka the passive corvette pups are barely anything to write home about.
They feel due for a swap or upgrade and many bassists even prefer to swap them with aftermarket jazz bass pickups.
While the MEC pups often get a bad rep, they do tend to grow on you. So, resist the urge to swap them because they cut through the mix quite well and are a part of that chunky, growly Warwick sound.
A simple pot-swap is a massive improvement and any guitar tech can swap the volume pots – although the newer models may not need these modifications.
If you consider the active electronics models or are willing to upgrade the preamp and pickups, then Warwick does get back in the game.
On those models, you get two lush J-style pickups, and the $$ Corvette – even the Chinese bolt-on version – sounds significantly better.
The Rockbass $$ Corvette can unleash some thunder but it is substantially more expensive than the SR500.
Both volume pots on the $$ are push/pull and allow you to switch each pickup from series to parallel. They are very versatile, retain a pleasant fullness, and have the classic Warwick growl.
Alternatively, you can opt for Warwick's Korea-made Pro-Series, which is priced higher but offers better quality. On the Ibanez side, you can consider the SR600 which has almost the same specs albeit with an Ash body instead of mahogany.
Daring bass player types may also take a close look at the quirky 8-string Warwick RockBass Corvette.
Verdict: the SR500 Barts are categorically better than the MEC passive pickups. The active MECs stand up to the Bart MK-1. In this case, it is a "which tone works for you" situation. Either way, both these instruments are highly upgradeable and open to mods.
Wick vs Ibby: final words
The Rockbass basses are great if you love the Warwick sound, which many players do. Although, some people feel something lacking in the high-end and the overall tone feels "throttled".
In an SR vs. $$ contest, the SR500 was destined to win, because nobody likes to part with their money.
As always, when research fails to provide conclusive answers, trust your ears to make the right choice.