When looking at purchasing a beginner clarinet, there are many brands available, with a wide range of cost. A very popular option is the Etude ECL 100 Bb soprano clarinet.
The Etude ECL-100 is a decent affordable beginner clarinet with good quality for the money. It sounds quite good, has an attractive look, and comes with a one-year warranty and a hard case. Being an entry-level instrument, however, it falls short on certain aspects such as keywork, tone, and tuning.
In this article, we discuss what type of clarinet player the ECL-100 is best suited for, and we go through the main strong and weak points of this clarinet.
Who is the ECL-100 Bb Soprano for?
The Etude ECL-100 clarinet is mainly made for beginning clarinet students who are usually in middle school. Many people who choose this instrument like its low price.
Parents who aren't sure their child is going to continue playing for very long will often opt for something like the Etude ECL-100. Once a student starts to progress, they will likely need a higher-end clarinet to matches their abilities.
This clarinet is also used a lot as a marching band instrument in high school. For clarinetists who don't want to take their more expensive wooden instruments out in bad or cold weather, this plastic clarinet can serve as a second instrument.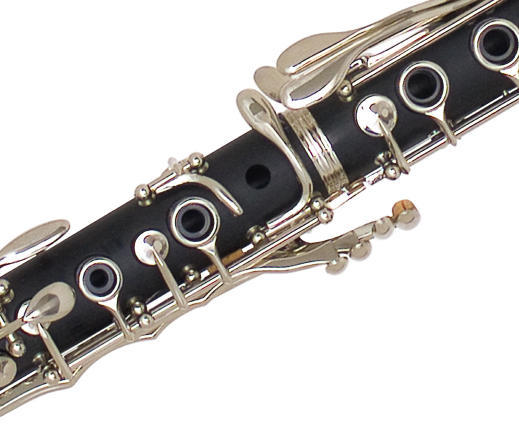 ECL-100 Clarinet features
| | |
| --- | --- |
| Body | ABS resin |
| Included parts | Reinforced thumb rest |
| | Plastic mouthpiece |
| | 1 reed |
| | Metal ligature |
| | Plastic mouthpiece cap |
| Keys | Nickel silver |
| Case | Hard shell |
The ECL-100 comes with a mouthpiece, ligature, mouthpiece cap, and reed.
The body of the Etude ECL-100 clarinet is made of ABS resin, which is a very durable and inexpensive plastic. It's a good material for a beginning clarinet student because it's not as fragile or heavy as a wooden instrument.
Rather than the standard two screws holding it to the body of the instrument, there are three, making it less likely to wiggle. The EC-100 also has a reinforced thumb rest.
In clarinets, the mouthpiece and ligature work with the reed to produce the sound. A reed is provided with the ECL-100, however the student will need more than one to work with. Those will need to be purchased separately.
Because the reed and the tip of the mouthpiece are so fragile, a mouthpiece cap is also provided to protect them.
The keys of the Etude ECL-100 clarinet are made of nickel silver, usually a combination of copper, nickel and zinc. They have an attractive silver look.
The plastic case provided has a hard shell, which effectively protects all of the parts of the instrument from damage.
Pros of the Etude ECL-100 clarinet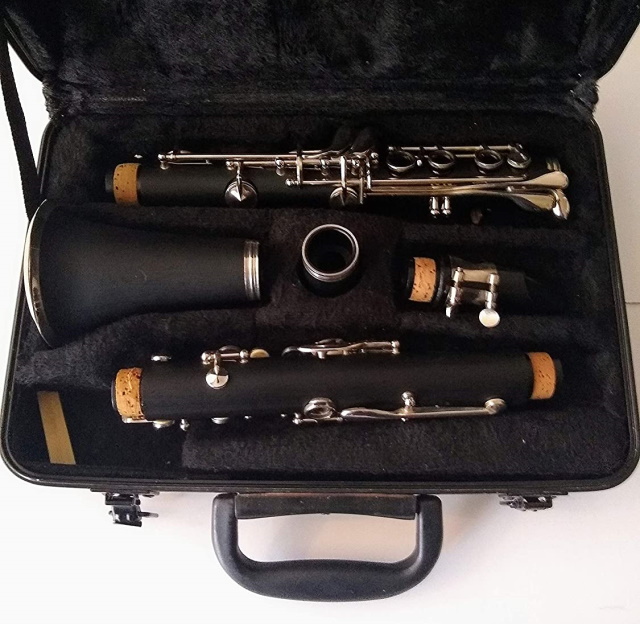 The Etude ECL-100 has a large number of positive reviews from buyers. The following are the main strengths of the clarinet.
Economical
Affordable beginning instrument. Name brand beginning clarinets such as Buffet, Leblanc, Selmer and Yamaha can be two to three times the price, or more.
Good quality for the price. Many reviewers feel the clarinet is very good for the amount they paid.
One-year warranty
Practical
A good purchase if the student may not continue playing very long. Most beginning clarinetists are in fifth or sixth grade. Parents don't know whether their child will like playing this instrument so they'd rather keep their investment low initially.
Some band directors feel the Etude ECL-100 is a good instrument to use until 10th grade. A number of band directors say that they like the instrument, and that it should last the student for awhile.
Good second instrument
For marching band. The Etude ECL 100 clarinet makes a good second instrument that can withstand being used outdoors in all kinds of weather. In contrast, wooden instruments can be damaged by rain and extreme temperatures.
As a practice instrument at home. Some users tend to use a higher end instrument at school, but practice on their Etude ECL 100 clarinet at home.
Decent quality
Good sound: most users find the clarinet to produce a nice tone.
Body of the instrument is brushed to look like wood: the Etude ECL 100 clarinet looks like a wooden clarinet, which would cost hundreds of dollars more.
Mouthpiece is good: many people report that the mouthpiece plays well and responds easily.
Sturdy case: the ECL-100 comes in a hard shell plastic case. This protects the clarinet better than a soft shell case.
Cons of the Etude ECL 100 clarinet
The following are a few weaknesses players sometimes mention:
Entry-level craftsmanship
Warning that the clarinet can expose the player to chemicals, including lead. This warning appears on a website which sells the Etude ECL 100 clarinet.
Hard to put together: some players complain about the joints being too tight. Most likely, the cork on the tenons may be too thick.
Keys can break easily: the keys seem fragile and not as sturdy as on name brand clarinets.
Keys are out of adjustment from the start: new Etude ECL 100 clarinets may not play well out of the box because the keys need adjusting.
Plating on the keys sometimes start to wear off after a couple of months. When plating starts to flake off, it can leave sharp edges on the keys. In high-end clarinets, key plating typically last years.
Middle joint is too thick to fit a marching lyre: for marching bands that play with their music, a marching lyre is a must.
The Etude ECL-100 doesn't use standard keywork, so repair shops are not always equipped to repair it.
Some band directors feel they break too easily for use in a band
Tone quality
Tone isn't as good as on name brand clarinets. Some players with some musical experience feel the tone on the clarinet is too bright.
Doesn't play in tune with itself: this forces the player to have to adjust each individual note to bring it in tune.
Can be frustrating to students who trying to improve their sound and playing: for a clarinetist who wants to progress, it can feel as though they aren't good at it, but in reality, they just need a better beginner clarinet.
Frequent questions for the Etude ECL 100
Does the clarinet come with cork grease? No, cork grease is not supplied, but it is needed. You'll need to purchase this separately.
What kinds of reed work with the ECL-100? Any Bb soprano clarinet reeds will work with the Etude ECL 100 clarinet. They come in different strengths, the best strength for a beginner is 2 or 2-½.
What kind of case does the clarinet ship with? The case has a hard shell made of plastic.
What is the warranty? It comes with a one-year warranty.
Can the ligature screw be easily replaced? You can check with a music repair shop to see if they have a screw that will fit, or just purchase a new ligature. The cheapest ligature is generally under $10.
Final words
Although the Etude ECL-100 is an inexpensive clarinet with an acceptable quality for the price, depending on your musical ambitions you may want to save up and buy a higher-end instrument to begin with.
The Yamaha YCL-255, the Vito Student Clarinet, and the Buffet Crampon Premium Student Bb Clarinet are great examples of pricier but much better-made options.