When it comes to clarinet makers, Buffet Crampon may be the most highly respected brand there is. Their relatively new Premium soprano Bb clarinet for beginners is worth looking at.
The Buffet Crampon Premium student Bb clarinet is an affordable way to begin on a quality instrument. It's responsive, comfortable and durable. The price is a bit higher than some other beginning clarinets on the market, but its quality enhances the chances of the clarinet student being successful.
Read further in this article, where we consider the Buffet Premium clarinet, who it is best suited for and review the pros and cons of the instrument. We also answer some related questions.
Buffet Crampon Premium Bb Clarinet construction & features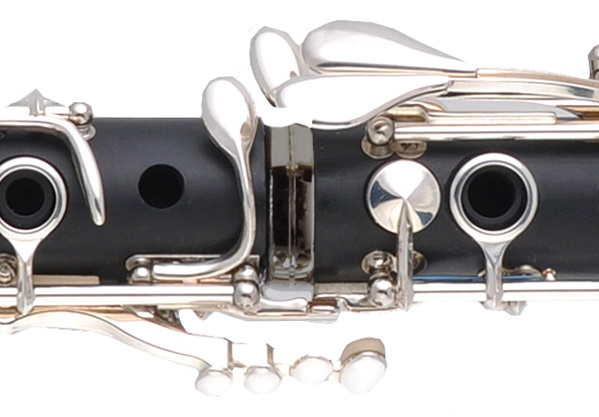 Made of ABS plastic, each Buffet Crampon Premium clarinet is manufactured at different sites around the world. The body is made by Buffet in France. The tone holes and post holes are cut at Buffet's facility in Germany. Assembly and padding are done at Buffet's newer location in Asia.
| | |
| --- | --- |
| Pitch | 442 Hz |
| Body | Copolymeric ABS body |
| Included parts | Adjustable thumbrest with neckstrap hook |
| | Mouthpiece |
| | Mouthpiece cap |
| | Ligature |
| Keys | Silver-plated |
| Case | Backpack |
When considering purchasing the Premium clarinet, it may be a good idea to ask your band director what they would like your instrument pitched to. Traditionally, ensembles pitch a concert A = 440 Hz, although more and more ensembles are switching to concert A = 442 Hz. If needed, your band director can help adjust the pitch.
The type of plastic used on the Premium clarinet is good for a beginning clarinet, because it's a durable material that's lighter in weight and less expensive than wood. The response is also easier on a plastic clarinet.
An adjustable thumbrest is a great feature, especially for beginning players who are still growing. Having the proper height to the thumbrest allows the student to maintain a good and comfortable hand position.
Many clarinetists use a neckstrap. This connects to a hook which Buffet provides on the thumbrest to take most of the weight of the instrument off of the right hand. Without it, playing can sometimes be painful and lead to improper hand position.
While it may seem small, an important feature of the Premium clarinet is that it comes with a mouthpiece cap. The tip of a clarinet mouthpiece is quite fragile. Too many beginning students don't have a cap to protect their mouthpiece. If they chip the tip of the mouthpiece, it won't play right, so they are forced to buy a new mouthpiece.
The keys are silver-plated. This is a much higher quality and longer lasting plating than the typical nickel-plated beginner instruments. They will occasionally need to be polished by a musical instrument repair shop.
The backpack-style case is handy. It's relatively lightweight and protects the instrument well. Clarinet students usually love them.
This instrument doesn't come with reeds, which are essential. These will need to be purchased separately. For more on this, see the Related Questions below.
Who is this clarinet for?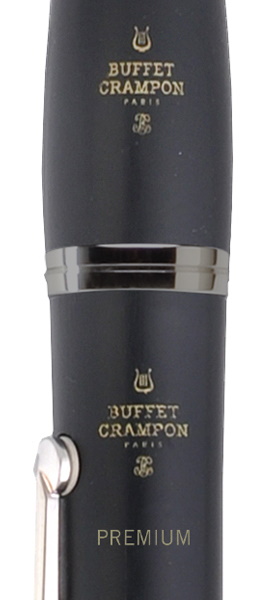 The Buffet Crampon Premium Bb Clarinet is perfect for a student who is beginning to learn the instrument. It's made to play in tune with an easy response.
This is especially important for students who are just starting out, because they are more likely to continue if they begin with success.
The instrument is well-suited for middle school students. As they progress and move into high school, however, it will probably be time to step up to an intermediate level wooden clarinet.
Switching to a wooden clarinet is a natural transition as the player strives to play with a better, more consistent tone.
The Premium Bb clarinet can make a good second instrument for a high school or college student. If they are in marching band, it's better to use a plastic instrument outdoors than a wooden one. The Buffet Crampon Premium clarinet is better suited to handle bad weather and more extreme temperatures.
Pros of the Buffet Crampon Premium Bb clarinet
Most people who use the Premium clarinet  have very positive feedback:
The Buffet Crampon Premium is often recommended by band directors and clarinetists. Many have experience with all of the beginning clarinets on the market, and often choose the Buffet Premium.
It's a quality instrument at an affordable price. The Premium Bb clarinet may be a little more expensive than some of the cheapest beginning clarinets out there, but it's of such high quality compared to lower priced clarinets that it's worth it.
The clarinet is very responsive. It's easy to blow into the Buffet Premium and get a full sound.
Easy to play. The instrument fits the hands well, and the keywork makes it comfortable to play the different notes.
Good tone. For a beginner instrument, the Buffet Premium clarinet provides a high quality sound.
The keys are well made and sturdy. Keys on some entry-level clarinets are easily broken and the plating can flake off.
It will last for many years. The materials are well-made, making it a durable instrument that can be in use longer than many other beginning clarinets.
Uses standard equipment. A local music repair shop can fix anything that might go wrong. This isn't true of many of the lesser known brands.
Great backpack case holds what you need.
Cons of the Buffet Crampon Premium Bb clarinet
Cheap-ish mouthpiece and ligature. Some players feel the mouthpiece and ligature that come with the Buffet Premium clarinet are not so well made. As with most beginning clarinets, the supplied mouthpiece and ligature are basic stock equipment. As a student progresses, they often seek a higher quality mouthpiece which will give them a better sound.
Tight tenon corks. The cork may be too thick, but tight cork on the tenons is frequently the case on new clarinets. With cork grease and use, the problem generally goes away.
Response can be a little stuffy. If there is too much resistance, the instrument sometimes produce a fuzzy sound.
Buffet Crampon Premium clarinet: related questions
Why are Buffet clarinets so popular?
A majority of students and professional clarinetists trust the Buffet line of clarinets. Buffet has been making instruments since 1825.
Buffet clarinets are popular because they are of consistently high quality. They provide instruments you can trust for all levels of musicians. Among professionals, the sound produced on a Buffet is considered the standard.
What's the difference between the Premium Bb and the B12?
For many years, the Buffet B12 Bb clarinet was considered the student model. It was a plastic version of one of their more expensive wooden models. It was easy to play, had fairly good intonation and was durable.
Buffet discontinued the B12 in 2016, replacing it with the Premium. The main difference between the Premium and the B12 clarinets is that the Premium costs less than the B12 did. 
What's the difference between the Buffet Crampon Premium and the Buffet Crampon Prodige?
These two models are basically the same instrument, with only a few different options such as the material the pads are made of and the type of case.
However, the Premium clarinet is only sold online, while the Prodige is only sold in physical stores. With the Premium and Prodige clarinets, Buffet hopes to provide quality instruments for students on a budget.
What kinds of reeds work with the Buffet Crampon Premium Bb?
Any type of Bb soprano clarinet reed will work on the Buffet Premium. Since reeds come in different strengths, the best strength to get for a beginner is 2 or 2-½ .
It's a good idea to have a few reeds available for the clarinet student so they always have a back-up if one breaks.
What are some good alternatives to the Buffet Crampon Premiere Bb clarinet?
Comparable beginner clarinets include the Yamaha Y-255 and the Vito Student Clarinet (made by Conn-Selmer). Both of these are also high quality plastic instruments, but they tend to cost more than the Buffet Crampon Premium Bb clarinet.
Final Words
For many musicians, Buffet Crampon is the only name you need to know for clarinets. The company has been in business for nearly 200 years, producing a high-quality, durable line of instruments. If you're looking at buying a clarinet for a beginner, the Buffet Crampon Premium Bb clarinet is well worth the investment.
***
Photo credits:
Featured and product images courtesy of Buffet Crampon Paris