Aston Barrett, the Godfather of Reggae, has used everything from an Ampeg to an Eden, which goes to show there isn't really a dedicated reggae amp. However, a good amp head with a full frequency cabinet will help you define your reggae tone and stay true to the genre. 
The best reggae amplification is something with power/headroom and lots of speakers. It doesn't have to be refined, although some players prefer it that way.
Amp head headroom plays a big role a riddim rig – especially for players who like to play with a light touch. Extra headroom allows the full tone and heavy low end to come through without digging as hard. 
A fat and full bottom end will eat up watts, and reggae big bass means you should be looking at a power rating of 400W or more while making your amp selection.
Think Aguilar, Carvin, Mesa, Ampeg, or any good all-tube amp. We're talking 400 to 500 watt amp heads that are voiced dark and deep – full, rich, and creamy.
Solid low-end for reggae bass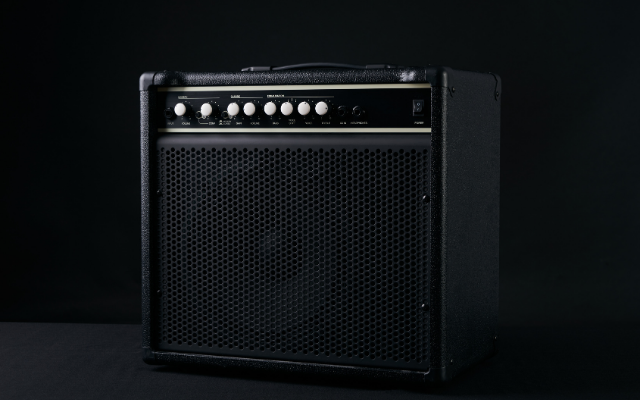 Secondly, a good reggae bass sound has plush lows supported by a powerful low-end, and your cabinet will need some power to do this convincingly.
Not to drown out the band, but to generate big fat lows while having enough headroom to generate punch and attack.
You have 10", 12", and 15" cabs to choose from. Anything above 18" can sound too muddy and boomy and the 10" cabs (especially 2×10) are not as rounded/full as the genre demands.
If you aren't a reggae specialist, a 4×10 or 8×10 can get you there with some work. However, a good quality 15″ or 2×15″ is ideal for that full, creamy, and mellow reggae bass tone.
If you are a reggae freak, the 15″ speaker is indubitably the right answer. After all, it gives you the low-frequency extension and can cover the pulsating low-end groove better than all other options. 
Modern 15" neodymium speakers are a good option if you want to sound less vintage and more versatile. For instance – a 1×15″ or a 2×15 Bergantino cab with a powerful all-tube head like Ampeg SVT or Mesa and a passive bass – hopefully a P-bass with flats.
It's generally better to stick to 1×15 or 2×15 instead of mixing and matching with 10", 12", and 15" combos in your stack. This cross pairing can add to costs without significantly getting you closer to the reggae tone. 
If you regularly run your bass through a PA with lots of power and speakers, you can use your stage rig as bi-amped, letting the FOH handle the bottom-end of your sound while you shape your amp tone to handle the top-end, complementing the FOH.
Let's go over a few solid amps/cabs/rigs for reggae.
Best amps & cabs for reggae
Ampeg SVT + 810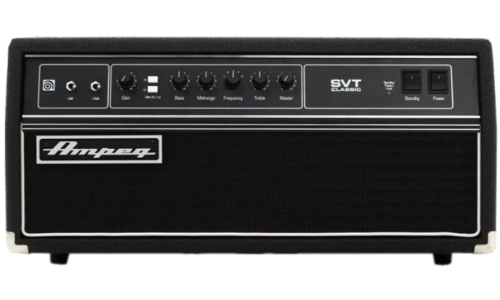 If you've been frequently attending reggae concerts for the past two decades, you know how popular this combo can be. Often called "The Fridge" – the Ampeg 8 x 10″ cabinet is the go-to unit of ska and reggae bands.
Paired with some version of the Ampeg SVT series, this duo has dominated reggae stages for decades, and for a very good reason.
It is hard to fault the Ampeg SVT II or III preamp for the lush and vintage-y low end and you can always experiment with the cab stack by trying out combinations of 15" speakers.
For instance, the Eden WT1000 amp head in an Ampeg SVT classic 15" speaker can get you a good reggae sound.
Ampeg PF-500 + PF-115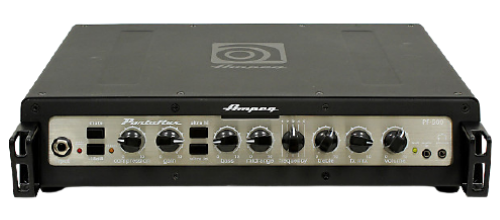 You may not be inclined to carry 'the fridge' to every gig. In this case, the PF500 + PF-115 combo is an absolute savior to still carry the tone without breaking the bank or your back.
Since you can mount these units together, this amp + cab is straight-up reggae out-of-the-box combo that can put twice as expensive units to shame.
This rig stands out for two reasons – a) it is a significantly lighter and more portable combo, and b) you can get both for under $500.
Moreover, the amp has sufficient power and headroom to cushion the low-end and the cab has a tweeter attenuator to clamp down the treble for reggae grooves.
Acoustic 361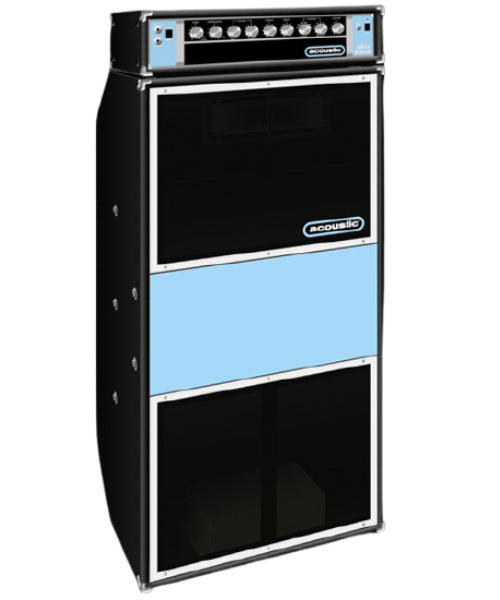 Nothing screams classic reggae more than a Fender J-Bass running through an old Acoustic head and any of their 18″ cabs.
The old school Acoustic gear can handle the deepest bass with abundant headroom. It can easily fill up the club or venue with a round-bottomed bass in a reggae context.
Mesa Amp heads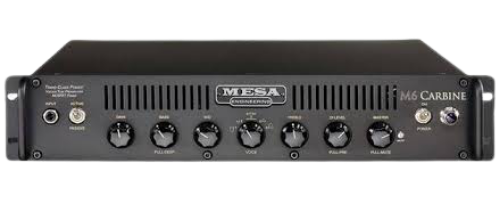 The M6/Carbine is a no-brainer if you want tons of headroom and twice as much depth. The deep switch can come in very handy.
The M9 is also worthy of consideration (see below). The Mesa Walkabout and Scout 12" might sound great for rock but they may not be 'big and round' enough for the dub and reggae sounds. 
If you want to remain clean with plenty of volume and headroom, stick to 400+ to ensure you get the deep sounds for reggae.
Aguilar amp heads

Aguilar is touted as an alternative to Ampegs. The TH500 stands somewhere between the hi-fi and the old-school vibe, and it can be a worthy contender for your reggae rig. 
Many roots reggae bassists vouch for the Aguilar AG500s + Aguilar GS 210 cabs + JBL PRX 18s XLF sub.
The JBL sub is par excellence this powered sub that yields a rich bass sound. The basic tone of this combination is very clean and pleasing with ample clarity and punch.
Hartke 410 bass cab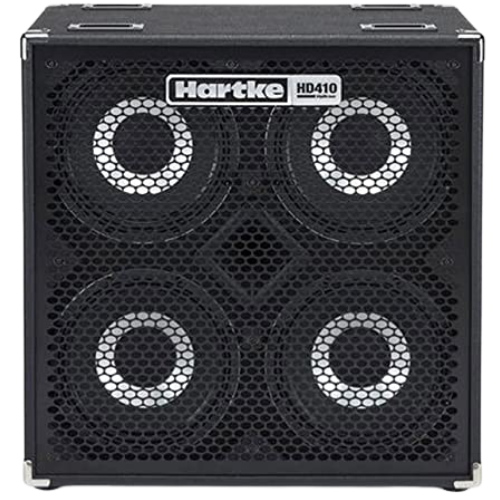 If you can find a used 410 (they go dirt cheap), they can effectively handle the bass heavy tones of reggae music.
It is great value for the price, and you will be better off pushing through them than any similarly priced 210 or 115.
Even if you aren't a Hartke fan, it can't be denied that their solid state amps with a tube preamp are high on performance and extremely affordable, especially for the used market price.
Genz Benz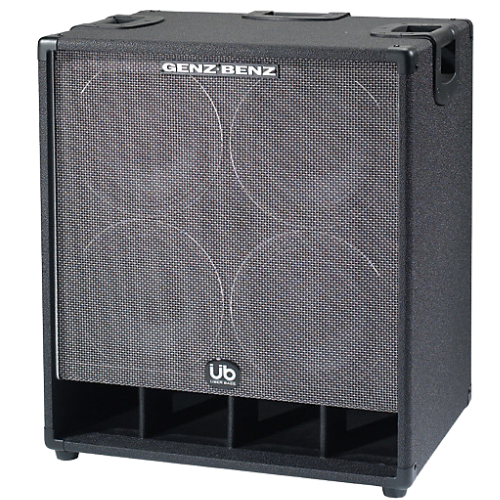 We all love some low-end in reggae but GB Uber 410 can work for musicians who don't like the lows to sound too mushy. They maintain a nice fat tone but keep the low-mids and low-end tight and focused. 
The Genz Benz Shuttle 6.0 + Genz Benz 410 can also do a massive booty shaking rumble with the LF boost switch on, mid frequency knob at 9, and treble rolled down almost completely.
Markbass rigs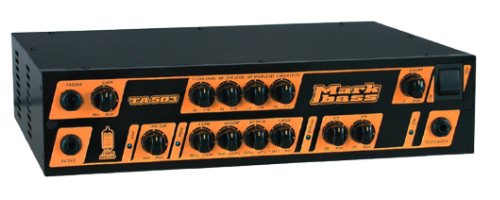 Robbie Shakespeare is one of the bassists who has shaped and defined reggae bass as we know it. He has teamed up with Sly Dunbar and supported all the legendary acts from Peter Tosh to Bob Marley to Black Uhuru to Gregory Isaacs.
He endorsed Markbass and calling it 'the wickedest sound you can get from a bass." He gets his 'mid-rangey' tones from the Markbass TA503 or SA450 head with a 104HF standard cabinet and a J-Bass or a Steinberger XT-2. 
Explore the speakers by Barefaced Dubster and Markbass 15" cabs before you settle for a sound. The Markbass LM800 and EBS Valvedrive through a Barefaced Super Compact sounds ideal for reggae.
The LMT and LM are clear favorites among reggae bassists. For an amp head that fits in a laptop bag, the Markbass LMII sounds very warm and deep and stays clean at high volumes.
The amp filters are ideal for the "dubby" stuff, one is a master tone roll off, and the other boosts the ultra-low frequencies while rolling off the mids and boosting highs.
The combination of these two filters yields some really deep tones for reggae. You can pair it with a 15″ cab and use the amp as a DI box if there's a big PA with good monitors. 
Other reggae artists also vouch for the majestic combination of a Markbass LMIII paired with two fEARful 12/6s.
Marshall VBA400 + Ampeg 8×10
This is another "Marshall meets the Fridge" classic that has tons of low-end without skimping on punch and clarity.
18" bass cabinets for Reggae
In the good old days, 18" ruled the roost and were considered low frequency beasts. This was an era when 15s were only good down to 50Hz.
Today the 15" can go down to 38Hz without any trouble, but they can't sustain this at high power. 
However, if you plan on bi-amping then it can make sense to go down the 18" route. In most cases, you can get the same sound from a 15" neodymium cabinet.
An 18" can go down to 28Hz at hi power but it is a lot of heavy lifting that can easily be done by your PA.
18" cabs can be hard to transport and will eventually take a toll on your back unless you have roadies to lug them around. 
SWR Big Ben 18″ cab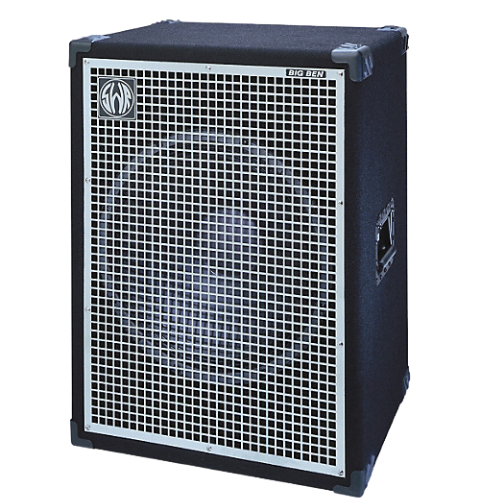 Big Ben is one of the most talked about subs in bass gear circles. It has great low end reproduction and is fairly light for an 18" speaker.
If you can find the older versions in the used market, it has a bag-end 18" which is generally considered best for reggae.
It has a distinct tone that goes deep without hogging too much power or muddying the mids. The clarity, tone-definition and warmth are very rich and gratifying.
Oddly enough, the Big Ben holds fort as a standalone cab as well. They pair particularly well with a good 4×10 and the combo sounds stellar for any kind of low-end rich music like reggae, hip-hop, and retro R&B.
Other amp/cab options for reggae
Markbass 2×10 combos may seem an unlikely candidate but they have fat and focused lows that are comparable to Ampeg.
The Alain Caron 121 Lite can deliver 500W of output through a single 12" cab with the option of upgrading to a second cab.
The extended speaker excursion offers optimal control over the low-end and the VLE control offers an on-board LPF.
There is no scarcity of old heavy cabs in the used market. There is a long list of cheap and diverse offerings of 1×15 or 4×10 cabs that are yours to be had.
For instance, you can get a GK400RB + 2 Ampeg 115s or GK BL600 + Ashdown ABM 4×10 that offers thick, deep lows with the EQ set flat.
EDWT405 + EDEN 210XLT's can be a good choice for dub because of the dynamic bass boost switch. 
A used Peavey can be another inexpensive, reliable solution for reggae bassists. A good Peavey 1×15 sounds warm and fat and the combo goes for under $300 in the used market.
However, try to stay away from the gritty 70s and 80s Peavey models that were made for rock and metal.
The 15/6 fEARful is a high-performance uncolored bass cabinet with a single 15" US-made Eminence Kappalite 3015LF that is teamed up with a six inch midrange driver.
Run a Carvin B1500 with two nfEARful 15/6 cabs with fEarful crossovers and you have a reggae keeper.
An ultimate rig could look like a Kern IP-777 tube preamp with a Peavey IPR-3000 power amp (parallel mono for 1000w or bridged at 3000w).
Add to this a fEARful 15/6 with a fEARful 15sub and you are a-reggae and a-roaring to go. The IP-777 is incredibly versatile and with very effective controls.
Mesa Boogie M9 + 4 ohm Epifani UL1 410 and/or Epifani UL1 210 (8 ohms) and Ashdown Little Giant 350W + Craaft B215 cab are some additional considerations for serious reggae low end thump and sweet mid-range.
Additional considerations for Reggae amplification
The 80's Flabba-style bass tone (Roots Radics) has punchy mids and solid lows. You can think of it as a synth and bypass the amp and go DI. When you compete with synth bass, good subs go a longer way compared to bass amp cabs.
If you are dealing with live sound engineers or recording artists who aren't familiar with the reggae tone, a post-preamp DI will minimize any tonal 'damage' they cause and let you stay in control.
The Kern DI is a good option with good control over phase, ground, level and a dedicated 12AU7 driver. 
You can get sufficient tone, grit and dirt by using pedals like the Aguilar TH DI/Preamp, Sans Amp, or Ampeg SCR/DI.
They say the real Jamaican way to 'reggae up' is to use a DI/Amp split. Then crank up the preamp gain all the way and play with a super soft touch. 
Additionally, you can split the track into two tracks. The first track to handle all the subs and the second to handle the 200 to 400 Hz frequency range.
For the subs, you can use the Waves MaxxBass, Waves RBass or Waves CLA Bass, individually or in some apposite combination that suits your taste. 
In the second track, 200 to 400 Hz, you use the amp sounds or the DI into a Bass Amp Room – tweak the sound to enrich the rounded low end without introducing any mud in the mix.
***
Photo credits:
Featured image: Reggae Band" (CC BY 2.0) by Sam Howzit