Ibanez makes excellent bass guitars that are well-regarded in the bass community. Their instruments are considered to be high value buys with good craftsmanship and modern designs.
This combination of aesthetics, affordability, and quality has led to their rising popularity.
Ibanez claims a big share in the entry-level and mid-market price bracket because of their feature-packed offerings at a competitive price. They don't skimp on build quality, components, or fit/finish. This is reflected in the intermediate-level basses, which shine for the price.
Ibanez bass guitars are renowned for their sleek designs, transparent tone, and lightning-fast necks. They have a large catalog of bass guitars on offer across all the price ranges. This includes fan-frets, fretless, and fretted models available in 4,5, and 6-string versions.
These instruments bear various permutations of electronics and non-traditional tone woods depending on the series they belong to. The Japan-made product lines enjoy a rock-solid reputation as outstanding professional instruments.
The Ibanez GSR, SR, and BTB are among the most reputable product lines.
Which Ibanez bass is the best?
In the mid-range, the Ibanez SR500 and SR800 offer fantastic bang for buck. Frankly, the entire Soundgear Series is famous among jazz and metal bassists on account of their slender necks and highly versatile electronics.
Let us take a brief look at each series in the Ibanez Lineup:
Ibanez GSR Series
The GSR Series (also known as Gio) is an entry-level series with most instruments ranging from $150 to $300. They feature variations of highly popular models such as the GSR100, GSR200, and Ibanez miKro bass guitars that are designed to serve the needs of students or beginners.
Ibanez SR Series
The Sound Gear series ranges from $500 to $1000 with some higher-priced Premium and Prestige models. The SR series is among the most popular in this price range. These instruments are famous for their ergonomic design, fast necks, and versatile electronics.  
Ibanez ATB and AGB Series
The retro-styled Artcore basses have retro aesthetics and are made with hardware components like the Gibraltar III or ART-1 bass bridge with a tailpiece.
These 4-string basses approximate the tone of a hollow body bass guitar and feature a 30.3" scale length to give the feel of an acoustic bass.
They sport two passive Classic Elite Bass pickups with Maple, Walnut, Linden tonewoods.
Ibanez ATK Series
The now-discontinued ATK Series is a gem among the Ibanez catalog. These wide-necked bass guitars diverge from the usual fare and have a classic styling with good heft in build and tone.
They sound great in funk, rock, blues, and slap-style playing, and are available from $500 to $1000.
Ibanez BTB Series
The bulk of BTB basses lie in the $1000-$2000 range. They rank high in popularity and represent the Ibanez Bass Workshop's innovation, excellent craftsmanship, and upmarket sonic capabilities.
Ibanez EHB Series
The EHB series is an affordable take on multi-scale basses. Placed in the $1000 to $1500 price range, these guitars feature ergonomic designs with fan frets, a mono-rail bridge, and dual-coil humbucking Bartolini pickups.
They generally feature birdseye fingerboards with roasted maple/walnut and American basswood bodies.
Ibanez Talman Bass
The relatively recent Talman bass is a classic design of the P-J styled bass guitar with an offset Fender Jaguar-esque body shape.
It is noted for its versatile tone on account of the split single-coil and single-coil pickup combo and proprietary TMB electronics.
The bass variants are available in 4 and 5-string versions that use tone woods like Jatoba, Poplar, and Maple.
Ibanez RGB Series
The RGB series was created to emulate the success of the Ibanez RG electric guitars. Following the same prototype, they offer a 4 and 5 string version of the RGB300 that has become wildly popular in modern metal due to its wicked styling, aggressive tone, and lightning-fast neck.
Ibanez basses playability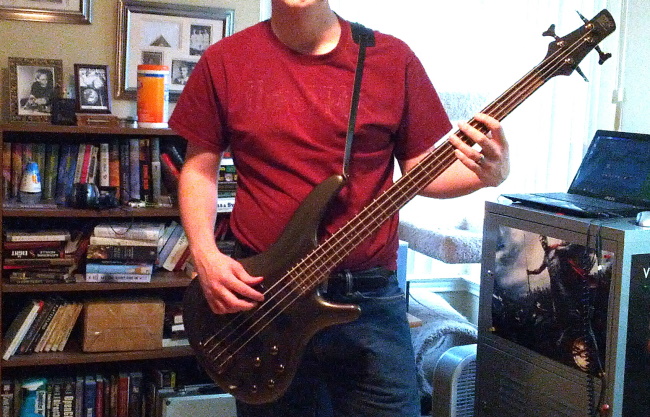 The Ibanez neck is undoubtedly the most talked about in the bass community. They have a distinct feel and are considered to be ideal for comfort and fast playing.
Most basses, if not all, have a distinctive heel that seamlessly fits into the neck pocket at an angle.
Ibanez is also distinguished for providing the thinnest 5-string necks in the market. A majority of their bass guitars have a 19mm string spacing and medium to medium-jumbo frets. The nut width ranges from 38mm (4-string) to 45mm (5-string), with some exceptions.
Ibanez, like all manufacturers, does not list the official weight as it can lead to legal issues. Based on the information of online retailers, their basses range between 7 to 12 lbs on average. We can safely say they are lightweight and svelte instruments.  
In terms of balance, they are well designed and do not have any neck dive issues. The weight and balance of their design make them well-suited for long hours of play while sitting or standing.
Construction & quality

Body style varies among models, but most Ibanez basses boast a sleek profile and an ergonomic design with curvy, modern, and stylish-looking bodies built from Maple, Basswood, Mahogany or Poplar, Okume, Bubinga, and others non-traditional tone woods.
The high-end models tend to use Maple/Walnut, African mahogany, Poplar Burl, Okume or other premium tone woods. The Premium and Prestige Series models often sport gorgeous Burl tops (SRMS806) and spalted maple tops (BTB1905SM).
In terms of quality and consistency, Ibanez enjoys a good reputation for making high-quality instruments that offer excellent value for the price. The QA on their basses is at par with the industry standards set by big-name brands like Fender, ESP, and Epiphone.  
Electronics & tone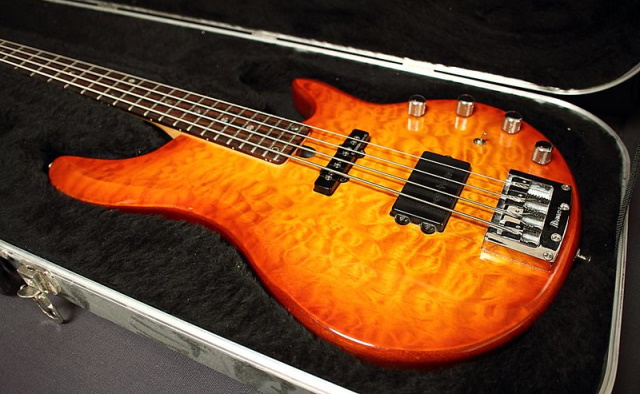 Ibanez basses are celebrated for their versatility and a neutral-sounding tone that acts as a blank canvas. This gives bass players the freedom to sculpt their tone based using EQ panels and pedals/racks.
Their onboard EQ panel features Volume and Boost/Cut for bass, mid and treble. A majority of Ibanez basses have proprietary custom electronics with a 3, 4, or 5-band EQ.
The high-end models sport a 3-way mid-frequency switch (250Hz, 450Hz, 700Hz), EQ bypass, and passive tone control on the treble pot. The low-end models have 3 to 4 knobs, while you may find up to 7 knobs on the Prestige and Premium models.
From the P/J Talman bass to the passive RG series to the active SR models, Ibanez covers a wide spectrum of electronics. They feature every imaginable pickup configuration from singles to humbuckers to piezo pickups with electronics that have coil tap and pickup selectors (AGB, ATB).
You'll find more versatile and familiar tones in the P/J basses like the RGB, SR Mezzo, Talman bass, and certain GSR models. The SR series has EMG passives in the cheaper models and Bartolini pickups in the high-end models.
The BTB standard basses sport Bartolini passive humbuckers and the Premium models are fitted with Aguilar pickups. There are exceptions and you'll find various models with other pickups like Dynamix or even Norstrand pickups (SR1705B). 
Is there an Ibanez signature tone?
Objectively speaking, Ibanez basses are available in such a vast range of design (tone woods, electronics, pickups) configurations that it would be impossible to narrow things down to a signature tone.
For instance, the ATK series, EHB multi-scale bass, and BTB series are very different in tonal capabilities.
Unlike basses like EBMM or Fender Jazz, there is no 'unmistakable Ibby' tone that people hanker for. To some, this indicates that Ibanez isn't a one-trick-pony. Others, who buy an instrument for its inherent color, may find this to be a letdown.
Setup & customization
Unlike the Fender Custom Shop or similar offers by other brands, Ibanez does not offer any scope for customization on purchase. They only sell prototypes designed and researched by their LA Bass Lab facility.
You can upgrade or customize them at your own cost by swapping the strings, pickups, and bridge. The bridge options are limited and you must ensure that you find an option that is compatible with the design.
The pickup upgrade is the most flexible as there are several aftermarket options available. You can also have a technician swap the electronics (preamp) if needed.
Ibanez isn't as customizable when it comes to necks due to the inherent design and lack of options.  Ibanez doesn't sell necks, pickguards, or even tuning machines separately.
That said, due to the excellent QA, most basses have good intonation and tuning stability. They tend to play well right out of the box.
Why are Ibanez basses so cheap?
There is nothing new about offshore production in the instrument manufacturing industry. Ibanez too has a factory in Indonesia where a majority of their basses are crafted and assembled. This greatly reduces costs.
Indonesia has a long and rich history with wood crafting and this ensures that there is no apparent loss of quality. Their workers are known for their exceptional skills and modest wages, much to the customer's benefit.
This allows Ibanez to craft high-quality instruments that square up to more expensive models built in other parts of the world.
The expensive Japan-made Prestige Series uses better tone woods, electronics, and hardware but are relatively expensive.
Many of the Ibanez bass guitars are crafted with non-traditional tonewoods like Jatoba, Bubinga, Wenge, Okume, and others. These woods are typically cheaper than Indian Rosewood, Maple, Spruce, and other traditional tonewoods found in bass guitars. 
Do Ibanez basses hold their value?
Ibanez bass guitars have reasonable resale value, especially the high-end models and the Prestige series. Some models may fetch more than others, based on their reputation and popularity.
In general, it would be fair to say that they sell easily and at a moderate 50% to 70% of their retail price. There is a healthy demand for Ibanez basses in the used market.
Can Ibanez basses compare to Fender?
Comparing an Ibanez and Fender basses is a subjective endeavor as the two brands have a dissimilar history, aesthetic, and design philosophy. Different players will enjoy different attributes of each type.
Fender basses have a classic styling with a distinct passive tone that is instantly recognizable. Compared to Ibanez, they have different string spacing, weight, size, and nut width. The Fender bass tone is a sound everyone has heard. It is often called the 'gold standard' of bass tone.
There is no denying the popularity of Fender P-Bass and J-Bass among mixing engineers, studios, producers, and even live sound engineers due to this reputation and familiarity. This reputation undoubtedly reflects in the higher price of Fender instruments.
Ibanez can't really compete with Fender's reputation or history, and perhaps. Their design and marketing centers around giving players high-quality instruments for very affordable prices. They have a wider range of options and more 5 and 6-string variants.
As mentioned earlier, Ibanez basses usually sound neutral, look modern, and have multiple combinations of tone woods and electronics to suit every genre and style.
Overall, Ibanez basses feature a better value-to-cost ratio compared to basses that are twice the price, even though they may lack a stalwart status or an iconic tone.
***
Photo credits:
Featured image: courtesy of Ibanez
(2) "I got an Ibanez SR300MG electric bass gu" (CC BY-SA 2.0) by colmmcsky
(3) Courtesy of Ibanez
(4) "Ibanez Roadgear 600" (CC BY 2.0) by MaQPhoto88