Kiesel basses, formerly known as Carvin, are USA-made instruments with top-notch build quality using the most beautiful top woods and tonewoods that deliver excellent value. The styles range from bolt-on to neck-thru to multi-scale to classic P or J style bass guitars. They are highly customizable.
Kiesel's new expanded catalog includes additional customization options, revamped electronics, and highly competitive pricing considering these basses are US-made instruments.
They are high on specs and features and leave you the option to decide if you want a no-frills bass or an over-the-top spec'd out custom order.
In terms of customization, there is a plethora of options for selecting the neck/body tonewood, exotic top woods, instrument finish, fingerboard wood, fret wire, scale-length, electronics, hardware, and various other aspects of your Kiesel USA Custom Shop bass build.
Kiesel/Carvin's noteworthy bass guitars include the SB5000 (one of the best), PB5, JB5, B25, and Vader headless bass. All allow for an extensive level of customization, and have a 10-day "no questions asked" return policy if you aren't satisfied with your purchase.
If you aren't after a customized bass, on the other hand, you can choose from an equally comprehensive range of currently available models from the Zeus, Vader, JB, PB, LB, Icon, Thanos, Osiris, and Artist Signature series.
Unlike most brands, Kiesel/Carvin has chosen the special order and direct-sales business model. You won't find their instruments in local stores, big or small. Instead, Carvin basses are made specially on request using the materials and design to be sold directly to you.
Here is a quick rundown of the greatest strengths of Kiesel/Carvin bass guitars:
Outstanding build quality for the money
Top-notch components and hardware
Fully customizable: You can choose what it looks like
Neutral Tone & Hi-fi/Modern Electronics
Neat wiring in the control cavity with copper foil shielded
Some of the top headless bass designs in the world
Let's dig in a bit more.
Pros & cons of Carvin/Kiesel basses

Construction & quality
The consensus is that Carvin basses are highly playable instruments that are solidly built with practicable and attractive components.
Being able to pick all the woods, electronics, and hardware/finish down to every minor detail is highly gratifying.
The only downside is that you need to wait for the order to be built and shipped to you, though in most cases is totally worth it.
Kiesel basses are unique and have a different approach than what most musicians are used to. They offer excellent value, provided you feel comfortable with the Ibanez-like ultra-thin neck thickness (front to back) – roughly 0.78" with most models sporting the standard 14-inch neck radius.
Their headstock design and headless basses are also peculiar. Be sure to examine closely the design you order.
Tone & electronics
Carvin offers a hi-fidelity neutral tone. It's a great starting point for those who seek a versatile bass tone that can be sculpted to suit your style.
It helps to think of them as a blank canvas rather than a colored sound – they are good for people looking for a clean and transparent tone that is open-ended.
As you spend time exploring what the electronics can do, you will find that these basses are capable of fitting into most musical contexts.
The Fender J or P-bass, EBMM, and Warwicks are known for their intrinsic and instantaneously recognizable sonic character. Carvin/Keisel instruments, on the other hand, are more chameleon basses, like high-end Ibanez that can sound neutral to some and sterile to others.
If you want your bass to have a soul – a tone coloration or "character" out of the box, you may be disappointed.
That said, if you find the tone too generic, you can reap the benefits of their customization/build quality and replace the electronics to get the best of both worlds.
Value for money
Carvins are well respected in the bass world, and these basses give you the best value for money in the "custom" builder arena.
Since the rebranding in 2008, the Kiesel/Carvin catalog has drastically expanded its offerings and improved the electronics.
That said, if you want a truly high-end boutique instrument and have the budget for it, there may be better options out there. If you are in the market for a $4k+ bass, Mike Lull, Moon Bass, or Sadowsky are worthy alternatives.
They may not be as customizable but they do offer stellar build quality, resale value, and tonality.
The resale value of Carvins is relatively poor because the new basses aren't that expensive to begin with.
A common issue with made-to-order customizable builds is that, while you pay for customizing a new instrument exactly the way you want, these specs won't necessarily retain that appeal/value for the person you resell it to.
Thus, the resale value really depends on the demand for your specs. As a result, brand recognition doesn't play as big a role as for Fodera or other brand name basses.
The flip side of the relatively low resale value is that you can easily find a used Carvin and upgrade its pickups to end up with a great instrument at a very affordable price.
Top Carvin basses to look at
Carvin PB4 / PB5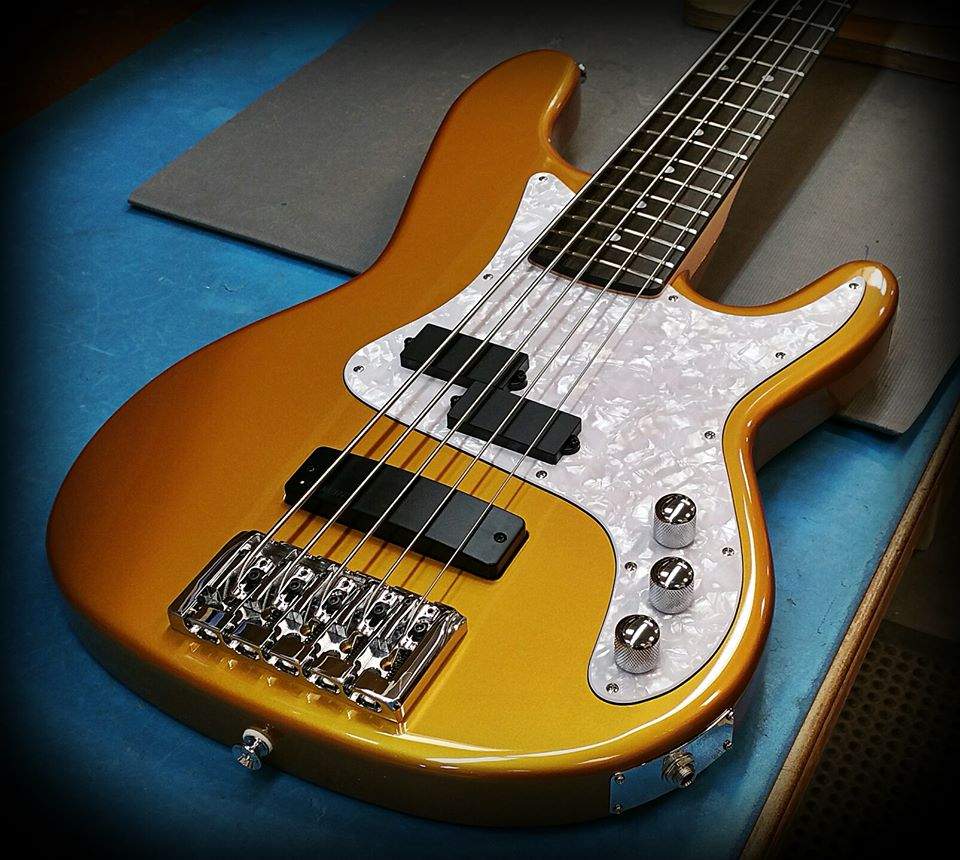 The PB4/PB5 is a testament to Carvin being at the top of its game. These instruments are gorgeous, well-built and they play like a dream. You have the option of a single-coil in the bridge pickup for extended tonal range.
The PB5 can approximate the Fender Precision sound quite well. Overall, the pickup is hotter than the original, which can be great if it suits your personal preference. The p'ups are of standard size, but you can easily upgrade them with aftermarket split-coil pickups.
The alder body P-style Carvins have a volume/ tone control panel. They offer everything that a Fender P has and more. You can roll off the treble and palm mute them to get some memorable double bass (upright) tones, or you can flip to active and get some thrashing-good fat and assertive tones.
Carvin BB76P

The Bunny Brunnel Signature basses have a tight-grained alder body with top woods like Flamed Koa or Claro-walnut, an ebony fingerboard, and a 5-piece maple Neck-thru design. The asymmetrical neck is slim on the treble side to improve reach to the low-end strings.
The BB76P has a De-Tuner on the B-string that will drop to A when needed. It has 18v active electronics with a Piezo bridge and the option of stringing it through the body or on the bridge when you need a quick string change during a concert. You can also use the volume knob to shut the active electronics and shift to passive.
The neck, albeit a little thicker, is comparable to the Ibanez SR Prestige basses, and the string spacing is tighter so there is a significant difference in the feel. You can toggle the bridge humbucker pickup between single or dual coil.
This is a steal considering that you can find a used instrument with a hardshell case for around $1500-1600 on Reverb.
The BB76F is another great option with an impeccable build and meticulous design and detailing. The tone on both models is similar to many other top-end neck-through instrument – versatile, solid, but somewhat sterile.
The concurrent versions have an 18v pre that is quiet and offers a lot of tone sculpting options. As for the intrinsic tone, you could define it as a modern smooth sounding tone with "hi-fi" characteristics.
The new electronics have an internal circuit that retains volume consistency when you switch between active and passive modes.
Carvin SB4001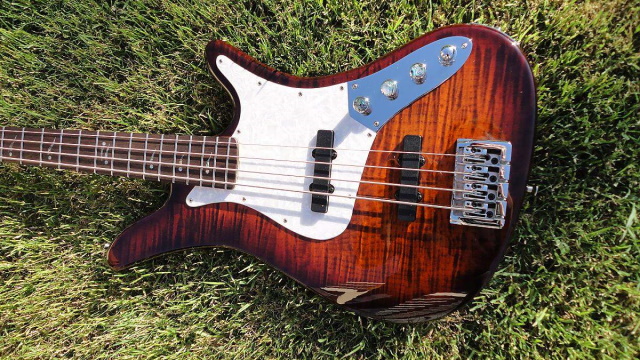 The SB series was designed in conjunction with the famous session bassist Sekou Bunch in 2009 to create an instrument with a "vintage vibe".
The SB4001 starts with an alder body, maple neck, rosewood fingerboard, and can be customized in every aspect imaginable. You can also opt for the alternative chambered body to reduce the weight by a pound.
The feel and stability are as good as they get, but the 19mm string spacing and 12" radius are reminiscent of the ultra-thin Ibanez necks.
The tone rests on the shoulders of the Carvin J99A single-coil pickups (alnico), which may warrant an upgrade with more formidable aftermarket options.
Carvin Vanquish Series – multiscale basses
The USA-made Vanquish Series includes the regular V58K and the multiscale VM49K (4-string), VM59K (5-string), and the Roy Vogt Signature 6-string. They are stage and studio ready bass guitars with all the hallmarks of a top-class boutique build.
They are customizable and can be returned for a refund after a 10 day trial, as per the "no questions asked" policy.
The entire series has rock solid bolt-on necks that are lightweight (ranges from 8 to 10 lbs) with great feel and finish (tung oil). They have ash bodies with walnut/purpleheart necks.
The styling on the Vanquish series is modern and assertive with the quality of features you'd only find in a boutique build.
Overall, these basses have superior balance and the beveled contours are ideal for comfort and ergonomics. The thoughtful ergonomic design is the real highlight of this series. For example, the neck plate with ferrules on the V59K significantly increases comfort while accessing the upper frets.
The electronics are versatile enough for any genre but work particularly well for funk, fusion, and any modern style that needs a glassy, hi-fidelity sound. The single-coils are crisp and snappy and the humbuckers are warm and thick.
Carvin LB75

Among the high-performing LB Series, the active-electronics LB 75 stands out as a highly modifiable bass that can look and sound like something twice the price. It has a fully rounded alder body with chambered contours/curves and a forearm cutout.
This is one of the older models that debuted in 1988, so the electronics have some gaps that you may fill with aftermarket upgrades. It features 18V active/passive electronics with a push-pull active passive switch, stacked bass/treble knob, a pickup blend knob, and stacked concentric mid with mid-sweep.
The tone knobs and passive switch may feel relatively less responsive compared to present-day instruments. On the plus side, the tone is neutral and versatile, especially when you toggle the humbucker single/double switch.
The neck-thru design results in improved resonance and the balance, weight, finish, and construction are worthy of high-end boutique standard.
Kiesel JB Series

The JB Series offers variants of the classic jazz bolt-neck bass in 4, 5, and 6 strings with or without frets. The Kiesel JB5 has a 5-bolt neck with a contoured neck heel, locking bass bridge, and dual carbon-fiber reinforcement rods.
It has superior balance, tone, and playability for the price, and you can go on to customize it to a fully-loaded super-jazz.
The stock pickups are bright but lack low-mids. If you don't enjoy their snappy tone, you can swap them with other p'ups like the Fender Custom shops or EMG J5. Kiesel has taken note of the pre-2010 complaints about the electronics, which has resulted in greatly improved newer models.
The Kiesel JB4 is another compelling option in terms of playability for the price. It can square up to any top-end bass and outclasses the Fenders and Ibanez offerings in this price bracket.
The electronics are dynamic and responsive and the tone ranges from throaty to bright to huge while retaining clarity and definition.
Overall, the JB series, especially in its current avatar, offers an interesting take on the classic Jazz bass that can be customized to great effect. If you do choose to customize any Kiesel JB Series bass, you should consider the multiscale version and asymmetrical neck.
Kiesel Vader Series
Kiesel specializes in headless instruments and the Vader series ranks among the top 5 headless designs in the world. With this series, Kiesel tried to replicate the massive success of Vader Series headless electric guitars. The Vader features alongside other headless product lines like Osiris and Thanos.
Vader basses come in 4, 5, and 6-string versions in the standard 34" scale length and a 30″ short-scale option. Unlike the composites used in other models, the VB4 Vader is constructed from premium woods. 
These basses weigh around 8 lbs and feature a 1.54" nut width, Kiesel locking nuts (works for any standard size strings), and Hipshot tuners that don't require double ball string sets.
The current series comes stock with the new "Radium" pickups (alnico humbuckers) in the neck and bridge position.
Kiesel B24 – B25 – Brian Bromberg Signature

The Brian Bromberg signature series delivers killer instruments with commendable stock electronics. The Kiesel B24 and B25 have received a lot of critical acclaim for the comfort, ergonomics, and electronics.
The noteworthy features include an ebony fingerboard, 12th fret abalone Brian Bromberg inlay, Hipshot A-style tuners, 24 medium-jumbo frets, and a fully-adjustable dual action truss rod.
The impressive electronics are designed in conjunction with Bromberg and contain KRJ alnico single coils, high-impedance input circuitry, and a versatile 18v active preamp.
Final words
Carvin has come a long way from their mail-order catalogs of the 80s and 90s. Today with Kiesel, you get a modernized design with graphite-reinforced necks, improved electronics (pickups/preamp), and a wide-ranging choice of boutique finishes.
These guitars have been used and endorsed by artists like Brian Bromberg, John McVie (Fleetwood Mac), Scott Thunes (Frank Zappa), Francis Buchholz (Scorpions), Amlak Tafari (Steel Pulse), James Lomenzo (White Lion, Black Label Society), and many other renowned bass players.
These are world-class instruments that deserve serious consideration among bass enthusiasts and professionals.